Designing to Learn Rather Than Learning to Design
Caroline Heywood, M.Ed.
Project Manager, Executive and Extended Education
School of Design and Creative Technologies (SDCT), UT Austin
&
Miles Husid
Marketing Coordinator
Human Dimensions of Organizations (HDO), UT Austin
HDO-SDCT Design Thinking Workshops
April 15, 2020
After a great launch in 2019, we are teaming up with The School of Design and Creative again to host a design thinking workshop on May 20-22, 2020. As we kick off our second iteration of the Design Thinking workshop, we took the opportunity to sit down with Professors Julie Schell and Tamie Glass. Below, Julie and Tamie discuss their experiences leading these courses, how they go about teaching the principles of design thinking, and the methods they use to ensure that participants leave the workshops ready to put design thinking to use.
Q: What are each of your teaching backgrounds?
Julie: I am an Assistant Professor of Practice in the School of Design and Creative Technology (SDCT) in the College of Fine Arts and the College of Education. I teach courses on design pedagogy, teaching, and learning. Prior to UT Austin, I taught as an adjunct professor at Teachers College, Columbia University.
Tamie:I am a tenured faculty member in the School of Architecture, and I also hold an appointment in SDCT. This is my eleventh year of teaching, and I teach both design studio courses and lecture-based courses. In particular, I draw upon my class titled Designing for Human Behavior to inform my work with the SDCT-HDO Design Thinking Workshops.
Q: What do you enjoy most about leading The Think Before You Design Think workshops?
Julie:While design thinking is very popular, it doesn't always get adopted because it is very difficult to learn. Design thinking seems simple on its surface but it's actually quite complex. I love finding ways to teach design thinking to people so that they can actually understand what it is and really learn how to use it effectively. When they leave the workshop, we want participants to take this knowledge with them to implement in their own personal and professional lives.
Additionally, I love that we have the opportunity to provide access to a design education for people who are not currently enrolled in the university. It's gratifying to teach a broad group of people how to use human-centered design and to see those "ah-ha" moments when they realize that they can use design thinking to solve the difficult problems that they see in their own world. Personally, when our participants grasp that they can use design thinking to improve their own lives and the lives of those around them, that is a really powerful and transformative moment for me.
Tamie: For me, as someone who teaches university students to become professional designers, it is very exciting to have the ability to teach non-designers about design thinking. We get to see workshop participants enthusiastically learn about design mindsets—the mindsets that trained designers use—and help them realize how they can apply this way of thinking to their everyday life and work. Regardless of whether someone is a designer or not, they can still adopt the design thinking mentality and use it to aid in their success.
Q: What are some common misconceptions about design thinking?
Tamie: That it's quick, easy to learn, and that employing design thinking makes you a designer. Professional designers go through very intense training and spend many years honing their craft. Design thinking isn't that. Instead, design thinking is a mindset, a set of strategies, and a skillset that people can apply and learn and make a part of their lives. I believe another misconception is that design thinking is a passing trend and currently "everybody is doing it." In reality, it's a set of tried and true methods and strategies that have been called different things over the years. Essentially, these methods are focused on human-centered design, which is something that is truly beneficial in whatever package it comes in.
Julie: I would say that one of the biggest misconceptions is that design thinking can only be used in a step-by-step bundled process. That it's a recipe-based framework that has to be applied in a certain way. It isn't actually that at all. As Tamie said, design thinking is a way of operating and seeing the world, which is what makes it so hard to teach and learn and why you can't be proficient in design thinking after taking a 20-minute short course.
– –

"Yes! I would absolutely take this workshop again and again. It was so exciting and interesting to learn about something that often seems nebulous. I am excited to share this with my team."




– –
Q: There are a few Design Thinking boot camps out there, how does yours compare and what makes it different?
Julie: One of the things that makes our workshop different is that it is taught by a learning scientist and a designer. One of us comes from a deep level of mastery in what design is as a practicing designer and a professor of design, and the other person really understands how to help people learn complex material and use what they learn. It's not just another boot camp and we don't just teach design thinking. Our students learn design thinking, and I believe that's the difference. Our workshop centers around what design thinking really is and it is taught in a way where you can actually use it.
Tamie: I agree with Julie. We bring a set of complementary lived experiences to the workshop. We're able to incorporate a deep expertise in working on human-centered issues, from my side as a designer who is human behavior focused, and from Julie's side who is trained in qualitative research. This particular aspect brings a rigorous approach to how we teach design thinking in our workshops.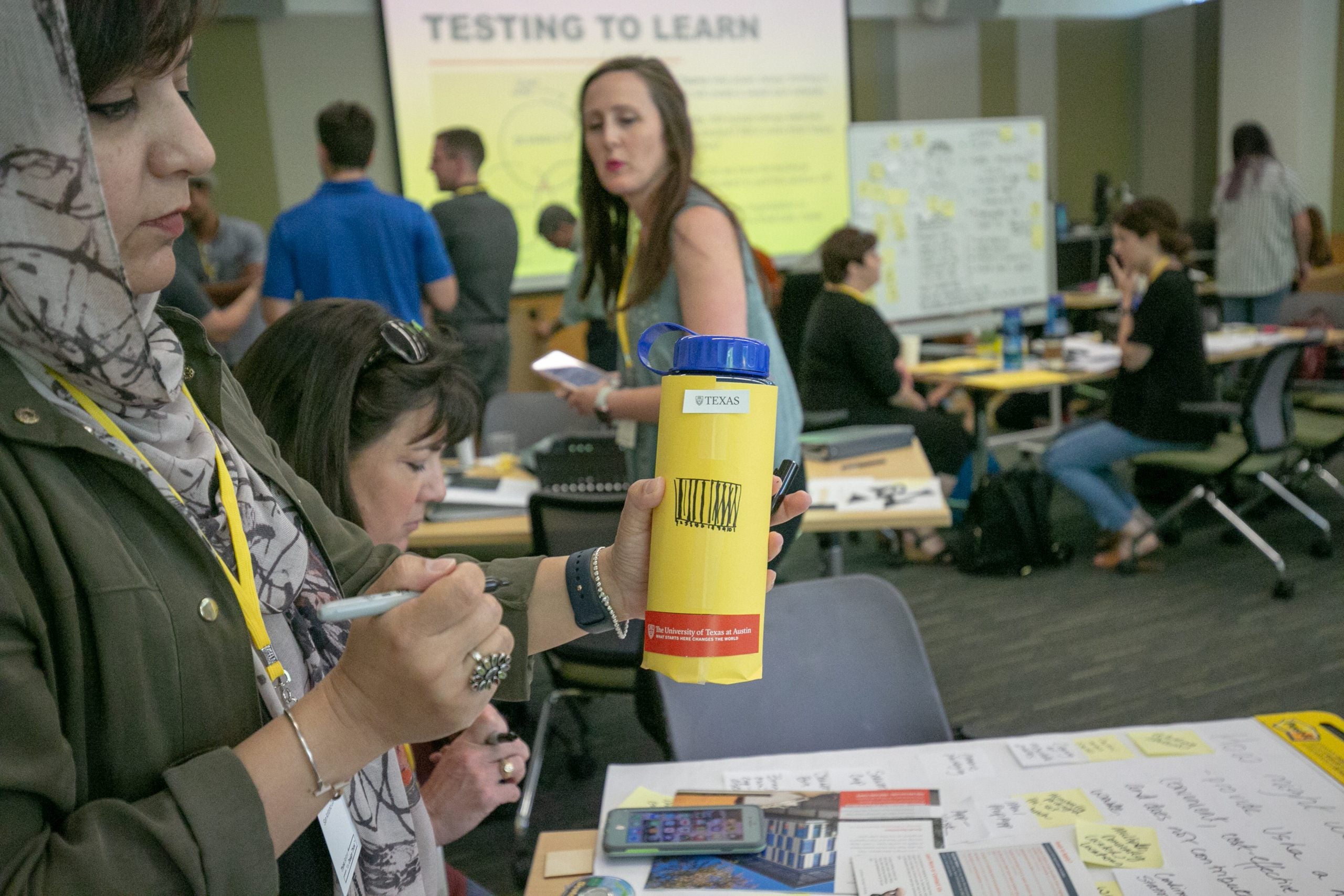 Q: How is the participant experience of in this particular workshop different than other workshops or college courses they may have taken?
Julie: I think in other workshops the approach to learning is passive. You come to learn from an expert who tells you what you need to know, you take notes, you listen to the presentation, maybe do a couple of activities, and then you sort of move on. I think the participant experience in our workshops is different because we immerse you in the content in a way that helps you build the subject matter knowledge on your own versus just having it passed to you by an expert. Our program is also highly interactive, you're actually designing within the first hour. And you are designing as a way to learn design thinking, rather than learning to design from a designer.
Tamie: I think the participant experience is definitely impacted by our unbundling technique, because participants are quickly learning things that they can take bits and pieces of and apply. We also spend the final day helping them learn how to adopt design thinking for themselves. This makes for a very different experience than what they might get from other workshops—there is a substantive takeaway. Also, during that final day, participants are encouraged to bring in their own backgrounds, their own personal expertise, and their own problems that they're already facing and start exploring how design thinking can be leveraged in these situations.
Q: How do you design for attendees of all different backgrounds, expertise, and careers enrolling in your workshops?
Tamie: That is a great question. The design thinking mindsets and methods are universal regardless of what background or discipline you're coming from. We also provide a wide range of examples, case studies, and problems to work on that are relatable to many people from different backgrounds. And again, that final day of adoption is more self-focused, so participants can come in and have time to reflect on their own problems and how they might use design thinking to address them.
Julie: I would say that after you take this workshop, no matter your background, you will be able to use design thinking. We don't just cover design thinking, we also slow the teaching of it down and bake into the workshop a way for you to actually adopt and use what you're learning. I think because of this method, we are able to teach a broad diversity of audiences. We know what people need to understand from a design perspective, we know the misconceptions that people are going to have coming into the workshop, we know what makes it seem difficult to learn, and how to help advance people's experience. I think slowing the learning down instead of speeding it up is one of the ways we make sure that everyone can engage.
– –

"I loved that the workshop was interactive and that there was a diverse group of participants to interact with and learn from. If you are considering attending the workshop, just do it! It will change you and be a wonderful experience."




– –
Q: What do you want participants to walk away with after completing your workshop?
Tamie: I want them to walk away with excitement and enthusiasm for design thinking, a much better understanding of the concept, and a level of confidence that allows them to embrace it and start applying it right away.
Julie: I want them to have the confidence that they can apply design thinking to address problems that seemed impossible to address before the workshop.
Q: Anything else you would like to add?
Julie: I want to share that the workshops are a lot of fun. For Tamie and I, the workshops are transformative for us, too. We see that we learn as much from the participants as I think they learn from going through the experience. We learn about learning and we learn about design by going through this experience with each of the participants.
Tamie: I imagine when signing up for a workshop, especially if you're attending it on your own, that it can be very intimidating to come in from the outside and take on new challenges and deal with things that might seem a little ambiguous in the beginning. For this reason, Julie and I really focus and work hard to design an atmosphere that is inclusive and open. The participants get to know each other and us quickly and I think that that's a big part of it.
Julie: We really do form long-lasting bonds with the participants.
– –

"I loved Julie and Tamie! They were awesome, professional, and truly passionate about learning and design thinking. I never expected to learn so much and feel that design thinking is something that I can apply every day."




– –
Julie and Tamie will be co-teaching and creating a general audience Design Thinking Workshop this spring. You can learn more about the course at our Design Thinking Website.
Please note: To ensure the health and safety of our participants and faculty, the workshop planned for April 22-24 has been moved online. We are also pushing the workshop back to May 20-22 to allow faculty time to successfully convert the curriculum to an online environment.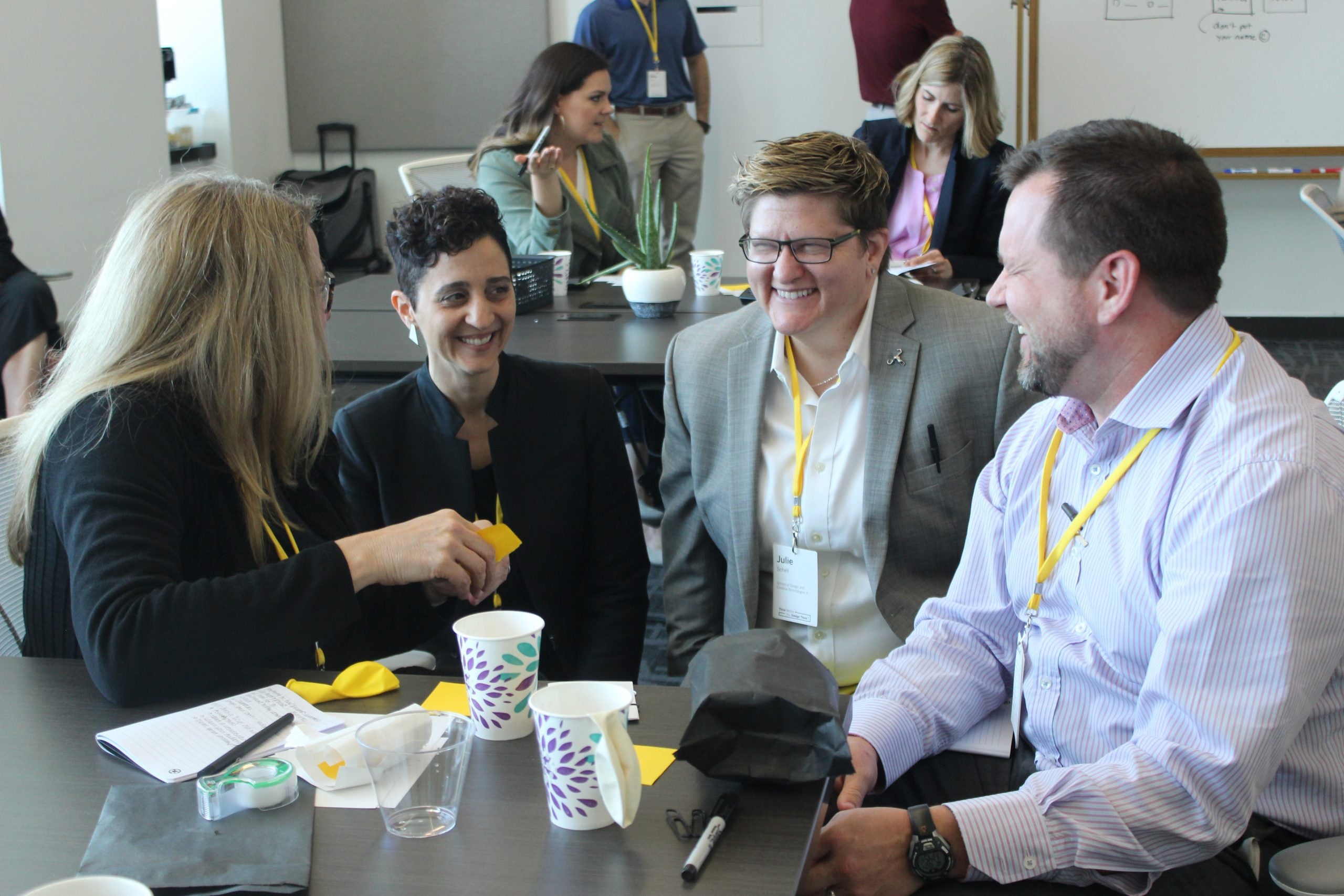 explore
+
create
+
engage
+
learn