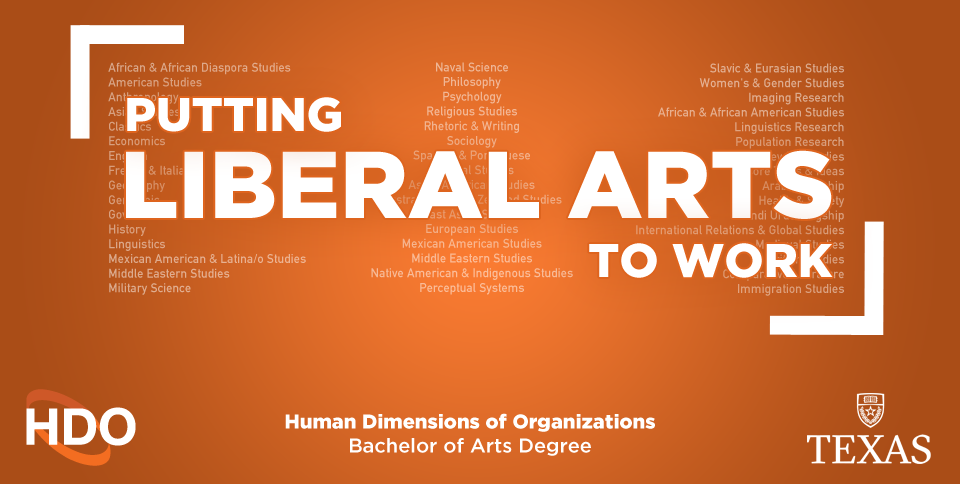 ---

Prospective Students


The first HDO Bachelor's degree course (HDO 301: Introduction to the Human Dimensions of Organizations) has been offered during the fall 2016 and spring 2017 semesters. All HDO courses will be offered during the 2017/18 academic year. For more information on HDO courses, visit Requirements & Courses.
What is HDO?
In addition to the videos below, we asked some Human Dimensions of Organizations majors to describe the Bachelor's degree, in their own words:
"HDO majors research the secret ingredient of success for any profession or organization: the humans. Understanding the subtle rhythms and patterns of human interaction can help us better understand why we act the way we do, and how we can cultivate proactive relationships with each other. This introspective system is valuable not only to an individual, but also to a company as a whole. The more we understand about the people we interact with—be they friend, family, coworker, or even stranger—the better we can all work together, and the more we can all achieve together."
– Clint Stepp, HDO Major
"I chose HDO as my major because it allows me to specialize in my interests while exposing me to different perspectives offered within a liberal arts education. As I became more exposed to the professional world, I have realized how important it is to develop exceptional soft skills to connect with others and solve problems. HDO has taught me how to evaluate my own strengths and personality, so I can better cooperate with different types of people because understanding the motivation behind how people think and react is necessary to become a courageous leader."
-Maryam Blooki, HDO Major
For more information on the HDO BA, contact Amy Ware.