Behavior Change & Influence
Behavior Change & Influence
Change Management • Influence • Productivity • Creativity
Upcoming Course: Spring 2024
Location: UT Austin
Cost: $1,000
Course Description
Behavior Change and Influence is led by Psychology Professor and HDO's Founding Director Dr. Art Markman. Drawing on research that was the basis for his book, Smart Change (each participant receives a copy), Dr. Markman provides insights from cognitive science to help you achieve your goals in fostering behavioral change and exerting greater influence.
We all aim to keep up our motivation to do our best. But, what does that really mean? How can we consistently achieve peak performance at work and at home?
This course provides you with core scientific principles from psychology to help you understand your personality and motivation. These principles are also essential for successful idea generation and unlocking individual and team creativity.
Six lessons will be presented to help you to get to know yourself better and to understand how your feelings and goals influence your effectiveness. You will leave this class with specific tools and exercises to help you and the people around you to reach new heights.
Course Leader(s)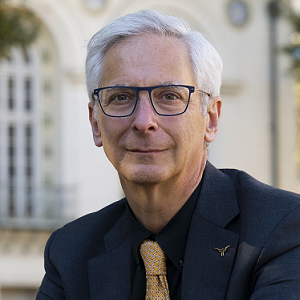 Art Markman is the Vice Provost for Academic Affairs and the Annabel Irion Centennial Professor of Psychology and Marketing at The University of Texas at Austin. He was also the founding director of the HDO program. He received his Ph.D. in 1992 from the University of Illinois and worked at Northwestern University and Columbia University before coming to The University of Texas at Austin in 1998.
Dr. Markman has published more than 150 scholarly works about cognitive science, decision-making and organizational behavior. He is also the founding director of the HDO program. Dr. Markman and several of his books, including Smart Thinking, Smart Change, Bring Your Brain to Work, and Brain Briefs (co-written with Dr. Bob Duke), have been featured on Dr. Phil and other programs.
Beyond the UT campus, he is probably best known as the co-host of KUT's "Two Guys on Your Head" radio show and podcast, where he and Butler School of Music professor Bob Duke explore the human mind with a unique mix of research, humor and everyday relevance.
Learning Objectives
The key lessons participants will explore in the course are:
Know Yourself:

 How does your unique set of personality characteristics influence the goals you seek? Learn to leverage those qualities to make you more effective.
What are your goals?

 Human psychology is exquisitely designed to allow you to achieve your goals. Use the latest research on motivation to help you learn to protect your long-term goals from short-term temptations.
Affect and Emotion:

 

You may think that emotions only get in your way. Your emotions are valuable guides that serve as useful and efficient signals. Learn to use your emotions to make better decisions.
Build a Neighborhood:

 We engage in three broad kinds of relationships in life: strangers, neighbors, and family. Neighbor relationships are ideal in business contexts. This unit explores how to create better neighborhoods and ecosystems that support innovation.
Talents and Skills:

 Almost every aspect of thinking is actually a skill that can be acquired, but the way we give each other feedback often leads us to consider these thinking processes as talents that you have or you don't.
Groups and Cultures:

 Modern business has made the world a smaller place. This unit explores a few core differences in thought processes that are typical of members of different cultures.
Details & Registration
Location: UT Austin
Upcoming Course(s): Spring 2024
Time: 9:00 a.m. – 4:00 p.m.
Continuing Education Units (CEUs): 0.6 CEUs will be awarded upon completion of this program (six hours of instruction)
Registration Deadline: Registration Closed
One-Day Seminar Pricing:
Registration fee includes all course materials, catering (lunch and refreshments), WiFi access, and parking.
Standard Registration: $1,000
UT System Staff/Alumni Registration: $750
Educator, Nonprofit, Government, Military Registration: $750
Get employer support! We've gathered resources to help you make the case for your employer to support your HDO education.
If you have questions prior to registering, please see our Professional Training FAQ or contact Andrew M. Vasquez, HDO's Enrollment & Success Coordinator at hdo-pro@austin.utexas.edu.
Who Should Participate?
The majority of participants in our Seminars and Certificate Programs are mid- and upper-level professionals working in the business, nonprofit, government, or military sectors; however, professionals at all levels of experience are welcome to participate. There are no prerequisites for enrolling in an HDO Professional Seminar.
While all HDO Seminars are developed with wide-ranging applicability in mind, the following individuals and groups will likely find Behavior Change & Influence most directly relevant to their work:
Senior/Executive Leadership
Managers and Directors
Team Leaders & Supervisors
Human Resources/Recruiting Directors & Managers
Anyone tasked with promoting behavior/culture change at their organization
The professor's wide grasp of the field was extremely valuable. Dr. Markman was able to take what is to many a mass of interconnected human processes and tease out logic and focus that leads to explanations and a very useful perspective. The seminar hooked me with the first slide's subtitle: 'using the motivational system to help yourself and others achieve long-term success.' The keyword was 'using,' and the seminar delivered on its promise, providing a thorough understanding of the motivational system in a way I have never mentally articulated.
Kia Reinis, PhD, Senior Technical Specialist, ICF International
Having hands-on application during the seminar with resources available for continued use and practicing the skills presented in class is fantastic. This will enable me to utilize the things I learned in the course and help solidify them as skills I use going forward in my job. The seminar really met the mark. I would love to spend more time on this topic.
Tracy Negrete, Finance Learning and Development, Dell
One-Day Professional Seminars
Our seminars combine cutting-edge research with real-world application to provide practical and immediately relevant tools for solving key organizational problems, ranging from personal motivation and growth to strategic leadership.
Businesses and nonprofits often bring outside specialists on board to improve their organization's overall efficiency, creativity, and productivity. Participants in our seminars learn to function as "internal consultants," equipped with new skills and insights to enhance their existing expertise and institutional knowledge.
By exploring specific human, cultural, and communicatory aspects of organizations alongside professionals from a diverse range of industries, participants leave HDO seminars more effective, well-rounded employees.