Create Your Own Certificate Program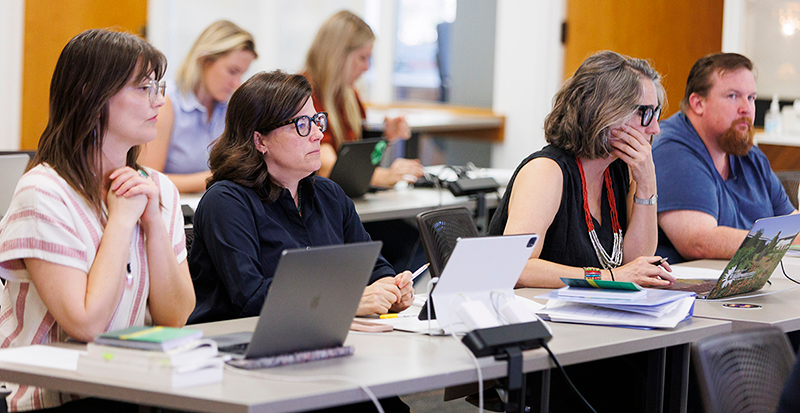 Program Description
The Create Your Own Certificate Program, offered by the Human Dimensions of Organizations at UT Austin, empowers participants to design a personalized four-course program that addresses the human-centered organizational challenges most relevant to their current professional environment.
Program Highlights:
Flexibility: This program allows participants to select any four courses that align with their schedules and professional development requirements. This means you can create a curriculum that suits your specific goals and time constraints.

Human-Centered Focus: Our courses are designed to equip you with the skills and knowledge required to become a more effective leader of individuals and groups. Our courses emphasize key issues such as communication, decision-making, ethics, strategy, leadership, and change management.

18-Month Completion Window: Participants have a generous 18-month period to complete their program. This extended timeline ensures that you can balance your training with your professional and personal commitments.

Upon successful completion of your fourth course, you will be awarded a Certificate in the Human Dimensions of Organizations. This credential signifies your commitment to enhancing your leadership and organizational skills.
Location: UT Austin
Cost: $4,000
Dates: Various
Time: 9 a.m.–4 p.m. each day
Requirements: You must complete four one-day courses within 18 months to earn your certificate.
Continuing Education Units (CEUs): 2.4 – 24 hours of instruction (CEUs awarded upon completion of the program)
Pricing
Registration fee includes all course fees, course materials, catering (breakfast, lunch, and refreshments), WiFi access, and parking.
2023 End-of-Year Discount: Enter the promo code "OCF2325" when registering to receive 25% off enrollment fees!
Code expires 12/22/2023.
Who Should Enroll
This program is designed for professionals and leaders from various backgrounds and industries who seek to enhance their knowledge and skills in human-centered organizational challenges. Whether you are a seasoned executive, a mid-level manager, or an emerging leader, you can tailor this program to address your unique career goals and development needs.
Get Employer Support
The most effective way to convince your employer to support your education is to emphasize the win-win factor of your participation in an HDO program.
We've gathered resources to help you make the case for your employer to support your HDO education.
From Certificate Seeker to Competitive Advantage in Just Four Days
Built on strong academic fundamentals and real-world relevance, HDO Certificate Programs are designed to enhance the portfolios of mid- and upper-level professionals.
Over the course of your program, you will gain immediately-applicable tools and skills to accelerate your career, whether your goal is advancing in your current organization, deepening your capacities to excel in your existing role, or developing additional skills for a transition to a new position. In the process, you will learn alongside and network with experienced professionals from a wide range of industries.
"My favorite part of the Certificate Program was, hands down, the cross-disciplinary faculty. What remarkable minds! I gained multiple new lenses through which to view workplace challenges. I felt so lucky to have exposure and access to these extraordinary educators. The HDO faculty is world class. I can't stop raving."
Sarah Gerichten, Director of Marketing, Square Root, Inc.
Standard Registration: $4,000
Discounted Registration: $3,000
Discounted registration is available for UT alumni and staff, as well as individuals who work in the nonprofit, education, government, or military sectors.
Our registration system accepts payment by credit/debit card, check, and purchase order. We also accept Interdepartmental Transfer (IDT) payments for UT Austin faculty and staff.
"HDO's Certificate Program provided me an opportunity to learn from dynamic professors and network with various industry professionals in the pursuit of being a better leader, driven by the desire to achieve operational excellence, all while trying to understand people, behaviors, and motivations. I found this experience truly enlightening." 
Brian L. Robbins, Director of Operations Management at Life Care Services
As a professional, I don't always have time for continuing education, and frankly, much of it goes 'in one ear and out the other.' HDO is different: You learn tangible, applicable, and very relevant tools and techniques. The way I look at the work I do has changed since the completion of my Certificate Program and the impact on my overall effectiveness has been substantial.
I've been in Executive Management for over 20 years. The courses I took in the HDO program helped me to gain a fresh perspective on management; specifically, on how people work. I highly recommend taking a seminar or obtaining a certification in this program.