Upcoming Course Dates: 

TBD; 8:30 am – 4:00 pm
Firms with higher levels of employee satisfaction routinely out-perform those with lower employee satisfaction. This seminar provides participants with valuable insights into why employee well-being is such a powerful driver of firm profits and performance and what employees and managers can do to enhance workplace well-being.
Fulfillment in the Workplace
Several findings have shown that one of the most important determinants of firm-value and firm-profits is employee well-being. For instance, firms with higher levels of employee satisfaction routinely out-perform those with lower employee satisfaction in terms of stock performance and customer satisfaction. Thus employee well-being is an important driver—perhaps one of the most important drivers—of firm profits and performance.
Led by Raj Raghunathan, Professor at UT Austin's McCombs School of Business and author of If You're So Smart, Why Aren't You Happy?, this seminar provides participants with valuable insights into: 1) why employee well-being is such a powerful driver of firm profits and performance, and 2) what employees and managers can do to enhance employee well-being. Both of these questions are explored from the lens of science, particularly positive psychology and behavioral economics.
In particular, participants can expect to become more knowledgeable about:
The three main determinants of happiness,

The three goals that all humans desire, and

Policies and practices with a proven track record of improving employee happiness
This seminar is useful for anyone who wishes to enhance his or her own well-being, and to those interested in enhancing the well-being of employees in his/her organization.
Dr. Raghunathan believes that the best learning happens when participants are engaged and having fun. So, the seminar focuses less on lectures, and more on activities that promote self-discovery and interactivity. Specifically, participants can expect to complete several research-backed scales that help identify strengths and values. Participants can also expect to get to know the other participants at a deeper, more "real self" (as opposed to PR-self) level.
Fulfillment in the Workplace
Location: UT Austin Campus
Upcoming Courses: TBD
Time: 8:30 a.m. - 4:00 p.m.
Fill out the brief form below to be notified when registration is open.
Seminar Pricing
Standard Fee: $750

UT Alumni/Staff Registration: $600

Early Bird Registration: $562.50 (25% discount; ends three months prior to seminar date)

HDO Master's Alumni: $200

Certificate Seeker Discount: Fulfillment in the Workplace is applicable to participants pursuing the Organizational Improvement (OI), Personal Leadership (PL), and Language & Leadership (LL) Certificate Programs.
Seminar Fee Includes:
Course Registration

Parking

WiFi Access

Lunch 

Refreshments

Course Materials
If you have questions prior to registering, please see our Professional Training FAQ or contact Lewis Miller, HDO's Marketing Coordinator, at lewismiller@utexas.edu / 512-232-8330.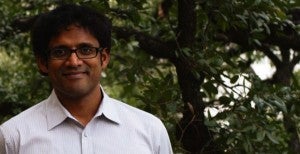 Raj Raghunathan, a Professor of Marketing at UT Austin, juxtaposes theories from psychology, behavioral sciences, decision theory, and marketing to document and explain interrelationships between affect and consumption behavior. His work has been cited in mass media outlets such as The New York Times, The Los Angeles Times, Austin American Statesman, The Houston Chronicle, and Self magazine.
He has taught in the executive program at the McCombs School of Business for more than seven years. In addition, he has taught executives from around the world, including Thailand, Finland, and China. He writes about his views on creativity, productivity, leadership, and self-regulation on his popular Psychology Today blog, Sapient Nature
.
His latest book,
If You're So Smart, Why Aren't You Happy?
was released in 2017.
The majority of participants in our Seminars and Certificate Programs are mid- and upper-level professionals working in the business, nonprofit, government, or military sectors; however, professionals at all levels of experience are welcome to participate. There are no prerequisites for enrolling in an HDO Professional Seminar.

While all HDO Seminars are developed with wide-ranging applicability in mind, the following individuals and groups will likely find Fulfillment in the Workplace most directly relevant to their work:


Senior/Executive Leadership
Middle Management
Team Leaders & Supervisors
Human Resources/Recruiting Directors & Managers
Individuals or teams working for organizations that already emphasize the "triple bottom-line" (profits, customer welfare, and employee welfare)
For participants coming in for seminars from outside the Austin area, there are several hotels near campus, many within walking distance.HDO recommends the following hotels:
HDO works with these many of these venues on a regular basis. If you need assistance selecting a hotel, please contact Jessica Crawford, HDO's Senior Administrative Associate at 512-232-7343 or
jessica.crawford@austin.utexas.edu
.
On-campus parking is covered for all participants for the day of their seminar. For transit information, please visit
Capital Metro's website
.
I thoroughly enjoyed the team collaboration aspects of the seminar, but my favorite points were related to gratitude and asking important questions. I plan to introduce and implement that idea of the "Vision Board" in my department and hopefully to the entire division in the hope that the institution will implement this idea as well.
– Michelene A. Holmes, Clinical Program Coordinator, MD Anderson Cancer Center
The seminar featured a great mix of lecture and interactive activities. I enjoyed the group interaction and relating the material to both personal and workplace situations. A big new takeaway for me was the concept of shadow values, which provides key insights into both my own reactions to certain people and scenarios and helps me understand the reactions of others. This will translate to better situation management.
– Melissa Ossian, aPHR, M.A., Academic Advising Coordinator, UT Austin
I would absolutely recommend this course to others. Dr. Raghunathan was incredibly relevant. The course was very personal, but that made it very effective! I was thrilled with the content. Very meaningful.
– Rachel Fox, Senior IT Manager, Hewlett-Packard (HP)
Dr. Raghunathan was able to put reason into why the tactics of achieving happiness he presented are effective. It helps to have an expert shed light on this very important subject. All the book references will also enable us to look deeper into the subject matter.
– Francis Tsang, Site Lead, Clinical Transformation at University Medical Center Brackenridge

HDO One-Day Seminars • Professional Training Home