December 16, 2013
Teresa de Onis, HDO Professional Seminar Participant; Strategic Marketer, Dell. Teresa recently participated in her second HDO seminar and wrote a blog post outlining her experience in that course as well. You can read that post here.  
Since participating in HDO's Professional Seminar, Maximizing Mental Agility, conducted by HDO founder and Smart Thinking author Dr. Art Markman, I am building better presentations, learning and remembering things better, and am becoming a better problem-solver. The seminar was a humbling and invigorating experience for this twenty-year high-tech marketing veteran.
Hello! My name is Teresa de Onis and I am a strategic marketer at Dell and budding artist. I'm thrilled to guest blog for In the Loop this week. In November, I wrote an article on my personal blog describing how I learned about the HDO program and why I'm investing my time and money in the professional seminar series.
I was particularly drawn to the topic of Maximizing Mental Agility because the high-tech marketing world I have inhabited for twenty years continues to increase in complexity. At Dell, I am responsible for storytelling – creating compelling and convincing messages and stories that sales can use to engage customers to solve difficult IT and business challenges. I must increase productivity, creativity, and efficiency in the strategy-building and storytelling process; at a more personal level, I'm seeking to create a higher level of workplace engagement and fulfillment.
The ability to think smarter, faster, and better is needed in this environment, and Dr. Markman fostered an intimate and interactive small group setting to teach the strategies to get there.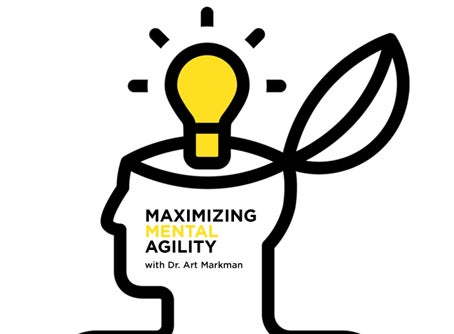 Why I build better presentations now. Dr. Markman explained the science behind the "Role of 3," the fact that our thought and memory capacity is organized around three items at a time. Taking advantage of this in my world means organizing stories around three things I want people to remember and focusing on them. Dell World, our premier conference and event for IT professionals, is taking place this week. I was responsible for an important main track session and used the Role of 3 in creating the customer presentation for one of our executives. The presentation has been praised for its credibility, clarity, and conciseness. I'm using the Role of 3 in this blog post.
Why I'm a better learner and my memory has improved. Dr. Markman is on a mission to rid the world of the phrase "having a senior moment." He taught us through lecture and exercises how to maintain an agile memory: explain things to yourself, write out summaries (of books you read, meetings you attend, conversations you have, etc.), and give yourself tests. I've been taking more notes than before during meetings, summarizing articles and books I read, and explaining things to myself, usually through sketches or diagrams on a whiteboard. All these practices are helping me internalize the learnings and retrieve information very quickly. One of my colleagues recently commented, "You sure do seem to have a lot of knowledge at your fingertips." Validation.
Oh, and I've gone on a multitasking diet. Dr. Markman's comment that smartphones make people stupid replays in my mind every time I'm tempted to interrupt what I'm doing to check it or turn on instant messaging.
Why I'm a better problem-solver. This part of the seminar was the most fascinating for me.  Dr. Markman taught us that the better the quality of your causal knowledge, the better your ability to solve problems. Humans are poorly calibrated for causal knowledge because we know less than we think we do. I'm starting to get in the habit of explaining things to myself and finding and filling the gaps in my knowledge. As Dr. Markman taught, I'm also using analogies/similarities and proverbs to explain things, especially when I get stuck, and it is proving to be an invaluable tool to help me see beyond the surface of problems and to create even better stories that my audience can easily relate to.
While a blog post can't do justice to the insights I gained during the Maximizing Mental Agility seminar, I do hope that I've inspired you to be on the lookout for the next one, to be scheduled for late spring or early summer 2014. In the meantime, thank you for reading and let us know your thoughts. What do you currently do to maximize your mental agility?
Teresa recently participated in her second HDO seminar and wrote a blog post outlining her experience in that course as well. You can read that post here.  
Editor's note: If you want to join Teresa in learning skills to advance your career and become a better leader, stronger critical thinker, and a more creative problem-solver, sign up for an HDO Professional Seminar today! Early bird, group, and UT alumni and staff discounts available.