Lewis Miller, Marketing Coordinator, HDO
June 14, 2016
As the economy continues to evolve, skills derived from a humanities-based education will only grow in relevance.

Critical thinking, creativity, communication. These three skills were highlighted by a new Brookings Institution report, Skills for a Changing World, as key to success in the modern workplace, alongside technological expertise.

"In the age of information, a focus on breadth of skills can complement technology. The new digital economy requires individuals to be able to filter, analyze, and create meaning from the vast amounts of information. Skills like complex reasoning and creative thinking can empower individuals to take full advantage of opportunities in the digital world."

Context and Applicability

After providing a concise summary of how ideas of what constitutes quality preparative education have evolved throughout history, report authors Rebecca Winthrop and Eileen McGivney note that technological sophistication, analytical thinking, and interpersonal skills are all critical in our current economy.

Winthrop and McGivney also indicate that as automation increasingly replaces human labor for many routine tasks (both cognitive and manual), non-routine interpersonal and analytical skills are quickly growing in importance.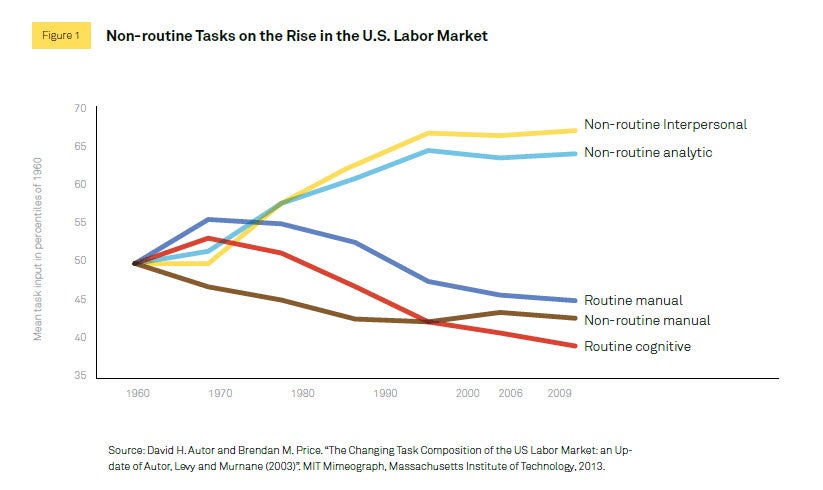 This rapidly changing trend in the type of tasks employees need to perform is increasingly leading to a troubling skills mismatch for employers, in the United States and around the world.

"The Manpower Survey, the largest global survey of employers covering 42 countries in developed and developing regions, finds that they struggle to find candidates with the right mix of skills even in countries where education levels are high. While many employers cite lack of technical skills, such as those from STEM fields or vocational skills, in the latest survey 17 percent of employers find "lack of workplace competencies" like communication and teamwork, a barrier to hiring talent."

Click here to read or download Skills for a Changing World.