Upcoming Course Dates: 

April 6, 2018
As a participant in this seminar, you will learn how to: (1) leverage historical thinking for effective leadership; (2) become a better strategic thinker; (3) define and guide change, even in a resistant environment; (4) anticipate future changes in your field; and (5) define your self-image as a leader.
Organizational Leadership & Strategy in Uncertain Times
How vital is strategic thinking to your success as a leader? 
How can adding a historical perspective to your leadership approach enable you to better anticipate and manage change?
When facing a critical situation, leaders are pressured to act quickly, often without sufficient time to fully identify and understand the context and background issues influencing the situation. Leaders who embrace history may use it in the wrong way, but those who embrace historical thinking are better prepared to foresee and strategically respond to challenges.
In this seminar, you will learn "Leadership Thinking," an immersive, experiential process of redefining your role as a leader generally, and your approach to decision-making in particular. 
Additionally, you and your fellow seminar participants will examine how incorporating historical thinking improves strategic leadership and agility, drawing inspiration and possible models from historical figures who practiced these techniques.
Through in-class exercises and discussion, you will also define the key strategic questions and objectives necessary to help your organization overcome the mental and cultural elements that are constraining strategic thinking and fostering resistance to change.
Organizational Leadership & Strategy in Uncertain Times
Location: UT Austin Campus
Upcoming Courses: April 6, 2018
Time: 8:30 a.m. - 4:00 p.m.
Seminar Pricing
Standard Fee: $750

UT Staff/Alumni: $600 (20% discount)

Early Bird Registration: $562.50 (25% discount; ends three months prior to seminar date)

HDO Master's Alumni: $200

Certificate Seeker Discount: Organizational Leadership & Strategy in Uncertain Times is applicable to participants pursuing the Organizational Improvement (OI), Strategic Thinking (ST), and Language & Leadership (PL) Certificate Programs.
Seminar Fee Includes:
Course Registration

Parking

WiFi Access

Lunch 

Refreshments

Course Materials
If you have questions prior to registering, please see our Professional Training FAQ or contact Lewis Miller, HDO's Marketing Coordinator, at lewismiller@utexas.edu / 512-232-8330.
---
Registration
Please select your preferred date below:
   April 6, 2018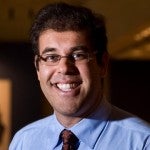 Jeremi Suri is is the author of five books on contemporary politics and foreign policy. He has taught this and a number of other leadership seminars for over decade to a variety of audiences, including state and federal government leaders, non-profit executives, and business leaders.
In September 2011, he published a new book on the past and future of nation-building: Liberty's Surest Guardian: American Nation-Building from the Founders to Obama. Professor Suri's research and teaching have received numerous prizes. In 2007, Smithsonian Magazine named him one of America's "Top Young Innovators" in the Arts and Sciences. His writings appear widely in blogs and print media. Professor Suri is also a frequent public lecturer and guest on radio and television programs.
The majority of participants in our Seminars and Certificate Programs are mid- and upper-level professionals working in the business, nonprofit, government, or military sectors; however, professionals at all levels of experience are welcome to participate. There are no prerequisites for enrolling in an HDO Professional Seminar.

While all HDO Seminars are developed with wide-ranging applicability in mind, the following individuals and groups will likely find Organizational Leadership & Strategy in Uncertain Times most directly relevant to their work:


Senior/Executive Leadership
Managers and Directors
Public and private sector employees who have recently transitioned to executive roles or aspire to do so
Federal and state agency heads and deputies
Project Managers
For participants coming in for seminars from outside the Austin area, there are several hotels near campus, many within walking distance.HDO recommends the following hotels:
HDO works with these many of these venues on a regular basis. If you need assistance selecting a hotel, please contact Jessica Crawford, HDO's Senior Administrative Associate at 512-232-7343 or
jessica.crawford@austin.utexas.edu
.
On-campus parking is covered for all participants for the day of their seminar. For transit information, please visit
Capital Metro's website
.
Dr. Suri is an excellent, unorthodox instructor. He worked to make sure that the seminar participants had meaningful discussions. Overall, it was a very compelling seminar to take!
– Erika S. Corbell, Senior Program Coordinator, Construction Industry Institute
Another terrific HDO seminar! I love the structure of these courses – incredible instructors from various backgrounds, opening minds to consider different solutions to common organizational problems.
– Sarah Gerichten, Marketing Director, Square Root, Inc.


HDO One-Day Seminars • Professional Training Home