Perspectives on Branding: Ethics, Ambiguity and Persuasion
Perspectives on Branding: Ethics, Ambiguity, Persuasion
Ethics • Communication • Storytelling
Upcoming Course: Fall 2024
Location: UT Austin
Cost: $1,000
Program Description
This seminar draws on the resources of literature and literary theory to explore the ways audiences experience brands and branded material, and the ways that reception can diverge from the expectations of organizations and business owners.
Branding involves compact forms of storytelling, which convey to the audience the ethics, values, and backstory of a particular business or product. Between concept and execution, however, there is a layer of ambiguity that brands can rarely control but can be productively aware of and manage.
In this seminar, we will use the resources of literature, literary theory, and ethics to provide insights into the multiple layers of meaning produced in acts of persuasion, develop greater sensitivity to ambiguity as a communicative byproduct, and develop a framework for telling the story of your brand ethically and inclusively.

Ambiguity is a core component of literary texts: not only can we not be sure whether what we understand is what the author meant, but we can also not be certain of whether our understanding is correct or useful. In this course, we will learn how to use that ambiguity to pull out a full range of possible understandings, and how branding works to limit or manage these understandings, but not eliminate them.
By becoming more sensitive to how different audiences and different contexts impact a brand's reception, you can craft a more effective strategy for your brand, predict potential pitfalls, and produce a better context that engages audiences more effectively.
Course Leader(s)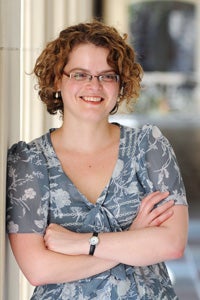 Ayelet Haimson Lushkov specializes in Roman historiography, the ways that Roman historians told the stories of their own past. She is the author of Magistracy and the Historiography of the Roman Republic: Politics in Prose (CUP, 2015), You Win or You Die: The Ancient World of Game of Thrones (Bloomsbury, 2017) and co-editor of Reception and the Classics: An Interdisciplinary Approach to the Classical Tradition (CUP, 2012), as well as a number of articles on Livy, historiography, political theory, classical reception, and Latin literature. Her work has also appeared in the Guardian, Independent, BBC History Extra, Eidolon, and The Chronicle of Higher Education, and been featured on UT News, Refinery 29, El Pais (Spain), and NPR. She is currently working on a monograph on Livy's poetics of citation, as well as developing an interest in the state of the humanities and in the working conditions of academic motherhood. In 2020-21, she is also a public fellow of the Op-Ed Project. 
Learning Objectives
In this course, we will explore three primary concepts:   
Ambiguity is Always Present: We will analyze a number of cases, both literary and real-world, to pull out the various causes and impacts for ambiguity.
Perspective Matters: We will hold an active discussion on how specific configurations of time, place, identity, etc., shape a person's response to messages. 
Audiences are Constructed: Using political speeches and literary texts, we will think about how the speaker/author actively makes for themselves the audience they need to have. We will then apply it to individual organizational applications, driven by the specific situations of seminar participants.
Details & Registration
Location: UT Austin
Upcoming Course(s): Fall 2024
Time: 9:00 a.m. – 4:00 p.m.
Continuing Education Units (CEUs): 0.6 CEUs will be awarded upon completion of this program (six hours of instruction)
Registration Deadline: TBD
One-Day Seminar Pricing:
Standard Registration: $1,000
UT System Staff/Alumni Registration: $750
Educator, Nonprofit, Government, Military Registration: $750
Get employer support! We've gathered resources to help you make the case for your employer to support your HDO education.
If you have questions prior to registering, please see our Professional Training FAQ or contact Andrew M. Vasquez, HDO's Enrollment & Success Coordinator at hdo-pro@austin.utexas.edu.
Who Should Participate?
The majority of participants in our Seminars and Certificate Programs are mid- and upper-level professionals working in the business, nonprofit, government, or military sectors; however, professionals at all levels of experience are welcome to participate. There are no prerequisites for enrolling in an HDO Professional Seminar.
While all HDO Seminars are developed with wide-ranging applicability in mind, the following individuals and groups will likely find Perspectives on Branding most directly relevant to their work:
Brand Managers

Social Media Directors/Editors

Marketing Professionals

Small Business Owners

Managers and Directors
Creative Professionals and Executives
HDO Seminars prepare me in ways that I didn't even know were possible. The lessons constantly open my mind to new ways of thinking and interacting with people and my surroundings.
Rachel White, Public Affairs Representative, College of Liberal Arts, the University of Texas at Austin
One-Day Professional Seminars
Our seminars combine cutting-edge research with real-world application to provide practical and immediately relevant tools for solving key organizational problems, ranging from personal motivation and growth to strategic leadership.
Businesses and nonprofits often bring outside specialists on board to improve their organization's overall efficiency, creativity, and productivity. Participants in our seminars learn to function as "internal consultants," equipped with new skills and insights to enhance their existing expertise and institutional knowledge.
By exploring specific human, cultural, and communicatory aspects of organizations alongside professionals from a diverse range of industries, participants leave HDO seminars more effective, well-rounded employees.