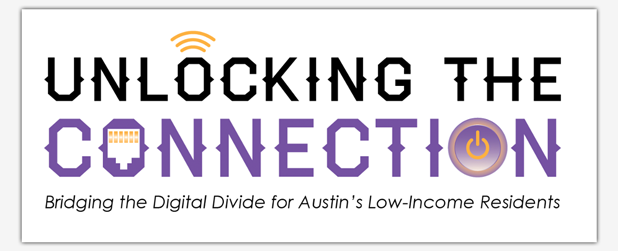 Catherine Crago, HDO External Advisory Board member, leads a charge to promote digital inclusion and empowerment in Austin. 
Lewis Miller, HDO Marketing Coordinator
October 19, 2015 
Imagine, for a moment, that you've been dropped into a foreign country with absolutely no grasp of the local language or customs. You look around, cautiously observing the unusual. You want to take advantage of this unexpected situation, but you don't have the tools or knowledge to make the most of the experience.
Now, imagine being surrounded by a progressively tech-dominated society, but feeling isolated and excluded because of your lack of digital know-how. Technology may be ubiquitous, nevertheless, it all sounds like Greek to you.
Digital literacy is the lingua franca of the modern global economy. In a city like Austin, with a thriving tech scene, this can seem like a bit of an afterthought. However, for many Austinites, limited access to technology and digital illiteracy remain hurdles to participation in this increasingly important sector of the economy.

The Housing Authority of the City of Austin (HACA) and its nonprofit subsidiary Austin Pathways recognize the weight of this problem and they're tackling it head on. In partnership with UT Austin, Google Fiber, the Open Society Foundation, Austin Community College, the Ford Foundation, the City of Austin, and other organizations, HACA developed Unlocking the Connection, an effort to end the digital divide for more than 4,300 residents of HACA owned-and-operated properties.
Unlocking the Connection is employing a holistic strategy to promote digital inclusion. Instead of just supplying residents with a computer or an Internet connection and expecting the gains in self-sufficiency to occur spontaneously, HACA's effort combines access to technology with digital literacy training programs designed to help folks take full advantage of the opportunity that such access and knowledge provides.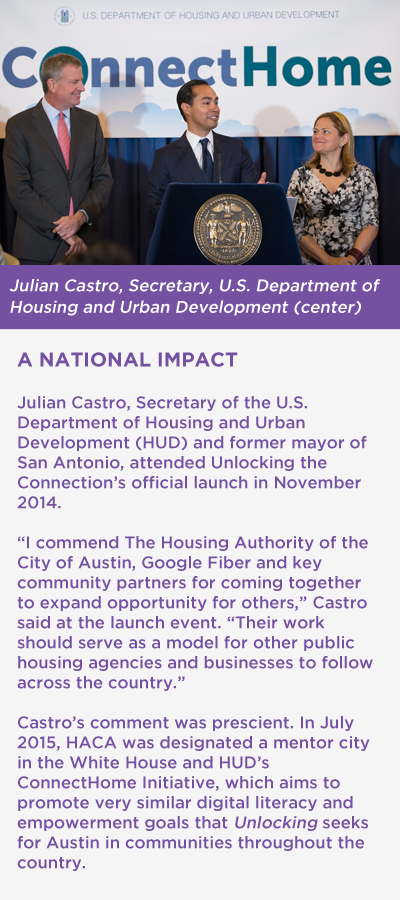 Catherine Crago, Head of Strategic Initiatives at HACA and a member of HDO's External Advisory Board, has been one of the key leaders of this program. During a discussion at HACA offices, Crago explained the importance of the all-of-the-above strategy that Unlocking is advancing.
"You can't throw technology over a wall and expect people to be instantly prepared to make the most of it," she said.
Crago and HACA Executive Vice President Sylvia Blanco, who earned her Sociology degree from UT Austin, explained the idea for the Unlocking program arose during the organization's 2013 strategic planning process. Through that process, promoting digital literacy was identified as a key requirement for raising self-sufficiency among public housing residents. HACA recruited a wide range of partners to support the initiative, which was officially launched in November 2014.
Aware that this holistic approach to digital empowerment would take time and lots of attention to implement effectively, HACA is rolling out the program in three phases. Phase I launched in January 2015 at six public housing properties that are home to more than 1,400 folks. This phased approach will allow for lessons learned in initial phases to influence and improve the program as it expands.
UT Austin's Moody College of Communication is providing evaluation support for the program. The evaluation will focus primarily on tracking the long-term impact on self-sufficiency among Unlocking participants.