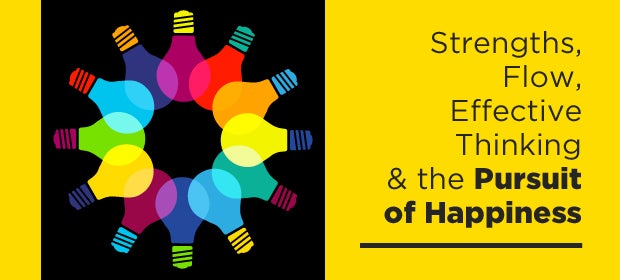 May 15, 2014
Teresa de Onis, HDO Professional Seminar Participant; Strategic Marketer, Dell
I recently completed a large painting of a scene depicting Madrid's oldest market, Mercado de San Miguel. During most of the day, the market is a frenzy of activity and engages all the senses: the scent of the food, the noise and bustle of the crowd, the sight of the colorful produce, the feel of the water droplets in the air (green air conditioning), the taste of the jamón ibérico. For my painting, I chose instead to depict a calmer scene of the market at siesta time, where patrons are engaged in quiet conversation over coffee, and the sun is high in the sky casting its warm glow on the iron structure.
During the many hours I worked on this painting, I regularly experienced long stretches where my concentration deepened, I lost all sense of time, and I felt a spiritual connection to something much larger than myself. Last month I attended HDO's professional seminar, Flourishing in the Workplace, and I learned that there is a name for this state of heightened creativity, productivity, and, well, bliss, pure happiness.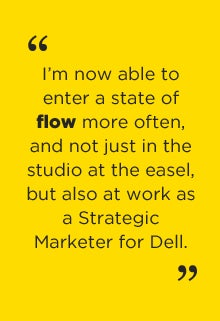 It's called Flow and I'm experiencing it right now as I recall my learnings and write this guest blog for In the Loop about this experience in my second HDO seminar. In fact, since course leaders Dr. Caryn Carlson and Dr. Michael Starbird made me aware that flow is available to anyone who knows and taps into their strengths and matches a high skill level to a high challenge, I'm now able to enter a state of flow more often, and not just in the studio at the easel, but also at work as a Strategic Marketer for Dell. I'm responsible for Dell's messaging on the topic of Big Data, a complex topic with many moving parts. Over the last few weeks I've often lost track of time and felt very connected to Dell's customers as I worked with my team and alone, often stealing away for hours of uninterrupted work at Starbucks to concentrate on getting our messaging just right.
Why is flow so important? Because it is a key factor in increasing happiness, which Dr. Carlson showed us is lacking in the workplace today and negatively affects people's general well being, moods, and engagement levels. Drs. Carlson and Starbird taught us that greater happiness can also be achieved by knowing and using our strengths and employing more effective thinking strategies.
What is the connection between strengths and happiness? Dr. Carlson led the seminar participants through some exercises that helped us identify our strengths, and she pointed us to the VIA 30-minute questionnaire that produces a report on one's top strengths. I've been a long-time believer in strengths-based leadership, so this new view of strengths as a happiness-generator amplified my knowledge and confirmed my belief that using one's strengths creates more positive experiences, connections, and engagement. Our homework was to use one of our top strengths in a new and different way every day for five days to increase happiness. I chose my "love of learning" strength and learned how to make chocolate cupcakes from scratch (how much happier does it get?), planted an herb garden (fresh basil and thyme every day!), and helped a friend brainstorm how to find the sweet spot audience for her business (helping someone IS happiness).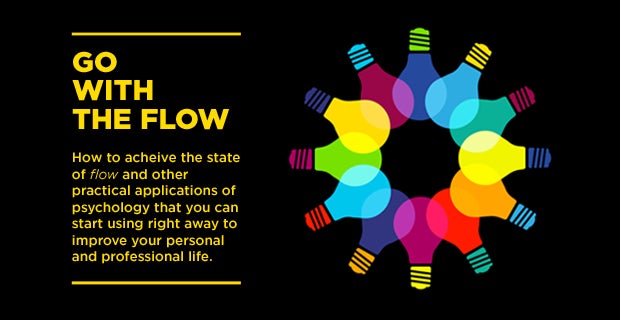 What role does thinking play? The topic of effective thinking augmented the invaluable learnings from the first HDO seminar I participated in, Maximizing Mental Agility. Dr. Starbird argued that innovative, insightful, and creative thinking is not a gift, but is available to any who employ practical strategies for using their minds effectively. I can't do his and Edward Burger's book justice, but I can highlight the top three things that have stayed with me that I've used almost daily since the seminar:
Understand simple things deeply and see the richness in foundational or basic things to clear away the clutter. This resonated with me as I work through the challenge of creating differentiated messaging for Dell on Big Data, a complex topic that at its core is really about helping organizations make better, faster decisions.
Fail to succeed. Use mistakes to guide discovery and reveal issues at the heart of challenges.  While we hear this one a lot, most of us grapple with it, so we need to be more open to understanding that failure is a stepping stone to success.
Ask questions! Especially "What is not being said?" and "What is the real question?"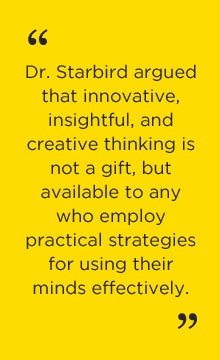 My goal in participating in the Flourishing in the Workplace seminar was to learn how to elevate my own and my colleagues' and cross-functional team members' happiness and engagement at work to the same level I experience at the easel when I'm painting. The goal is group flow, and it can be achieved by tapping into people's strengths and employing effective thinking strategies. My core team often comments that we have the best marketing core team at Dell, and I look forward to increasing our group flow using the learnings from this HDO seminar.
I do hope that I've inspired you to be on the lookout for the next HDO seminar in the fall. Thank you for reading and please let us know your thoughts. We would love to hear about a time when you experienced flow and were fully immersed in an activity where you felt energized focus, full involvement, and success in the process.
Editor's note: If you want to join Teresa in learning skills to advance your career and become a better leader, stronger critical thinker, and a more creative problem-solver, sign up for an HDO Professional Seminar today! Early bird, group, and UT alumni/staff discounts available.