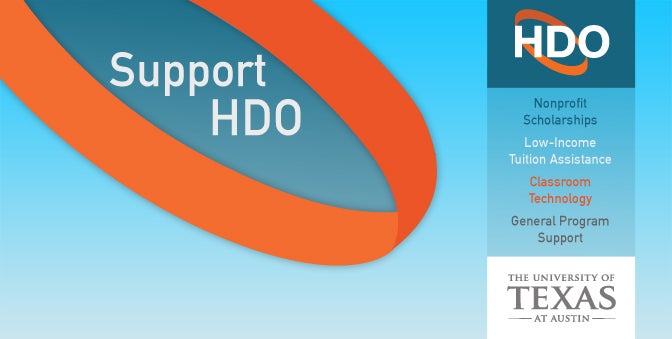 The first few years of Human Dimensions of Organizations (HDO) at UT Austin have been a great success! Our third cohort of Master of Arts students graduated in December 2016, a fourth cohort began classes in August 2016, and we're wrapping up recruitment for a fifth cohort now.
We've also expanded the number of and attendance at our one-day Professional Seminars, bringing HDO training to more and more individuals and groups across Texas and across the country.
To keep this momentum going, we're setting up a Donations & Gifts account to help support improvements to the program. The primary goal of this effort is to establish a Scholarship Fund for Master's Degree students who are low-income and/or work for nonprofit organizations. Tuition is often an insurmountable barrier for nonprofit employees who are interested in and could benefit from an HDO education.
Donations will go to support vital program needs, including:
Nonprofit/Low-Income Tuition Assistance
Research Projects
General Program Support
Distance Learning Technology
Donations and gifts of all sizes are welcome. If you believe in the mission of HDO and want to support the program's growth and improvement, please click below to donate.






Thank you!
HDO Faculty, Staff, and External Advisors