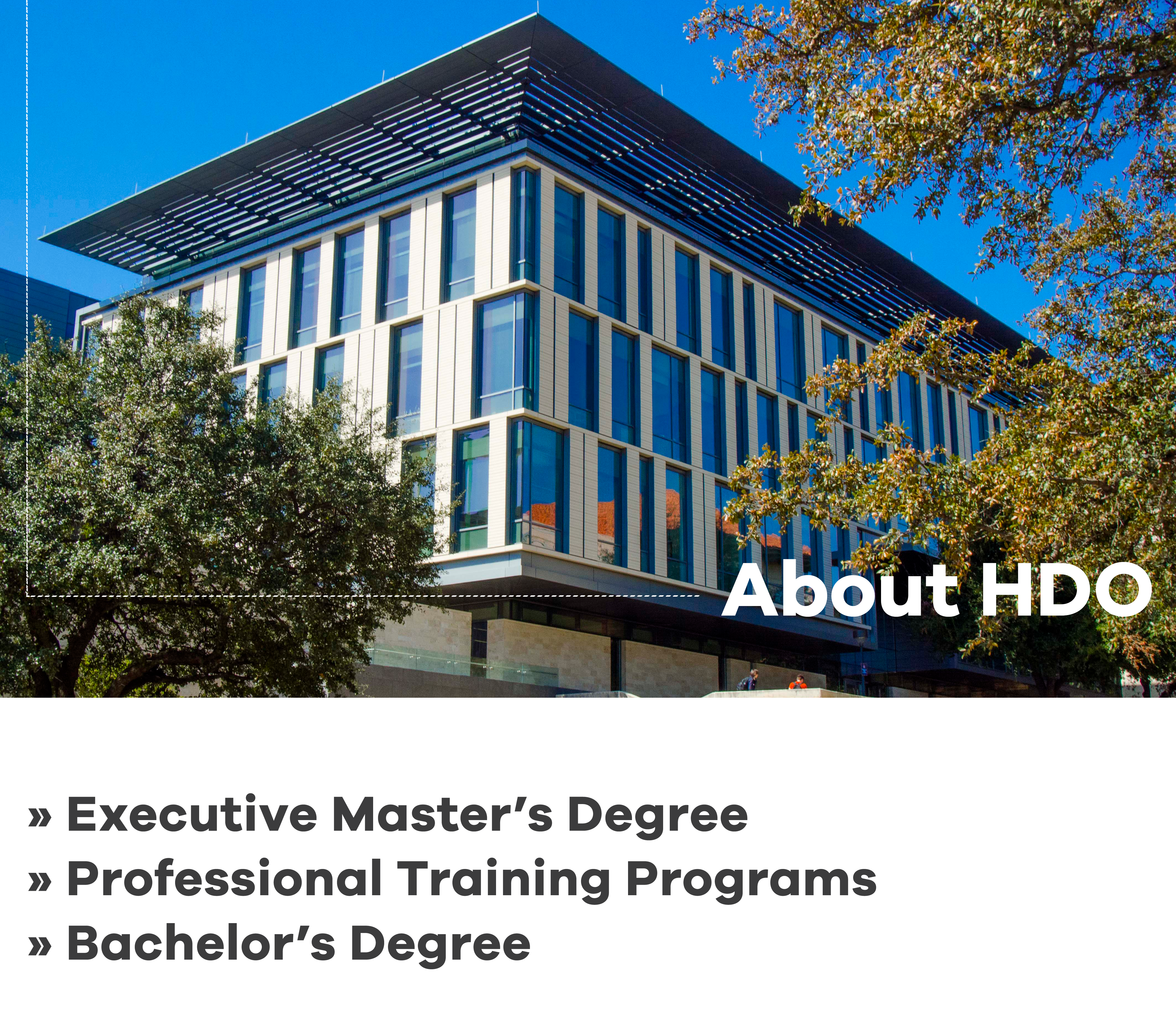 "Students within liberal arts programs have extensive skills for surfing the Fourth Industrial Revolution. Bridging critical thinking and meaning-making with entrepreneurship and design, post-secondary liberal arts programs are positioned to generate the kinds of intuitive thinkers that understand the future."
– Daniel Araya and Creig Lamb, The Brookings Institution
"Innovation can't simply be ordered up. To create and sustain an innovative culture, you have to go beyond being managers to becoming leaders. HDO can play a fundamental role in this transformation."
– Craig Wynett, Chief Learning Officer, Procter & Gamble; HDO External Advisor
About HDO
The University of Texas at Austin is proud to offer Human Dimensions of Organizations, a first of its kind in the nation program. Drawing on an innovative combination of liberal arts, behavioral sciences, and social sciences, we created HDO to meet a need not addressed by existing education options: providing a deep understanding of people, the key components of any organization.
Technical expertise in a particular domain is a necessary element for workplace success. However, recognizing behaviors and motivations, communicating across organizations and cultures, and thinking strategically to solve complex problems – a few examples of core competencies developed in HDO – are the skills that create transformational leaders.
To advance our mission of better understanding the people who drive today's global marketplace, we developed three types of innovative education opportunities:
Our 15-Month
Executive Master's Degree
is designed for leaders in the business, nonprofit, government, and military sectors searching for a more comprehensive understanding of how human behavior and experience affects organizational success. Students graduate from the Master's program equipped with the knowledge and skills they need to make their organizations more effective, creative, and efficient.
Our
Professional Training
programs allow individuals, teams, and organizations the opportunity to train with UT Austin's top faculty members in a professional-friendly format. These programs provide practical and immediately applicable tools for solving key organizational problems, ranging from personal motivation and growth to strategic organizational leadership. Training options include One-Day Seminars, Certificate Programs, and Custom Programs.
In addition to our offerings for working professionals, we launched a
Bachelor's Degree
program in fall 2016. The undergraduate program teaches students to explore, learn, and articulate the ways the liberal arts and social and behavioral sciences can address practical problems facing organizations.
HDO Program Brochures
Brochure: Master's Program
View the brochure below. Download here.
HDO Professional Training

 
View the brochure below. Download here.
Brochure: Bachelor's Degree
View the brochure below. Download here.
Director's Welcome
Welcome!
Human Dimensions of Organizations (HDO) brings together UT Austin's finest researchers and teachers in the humanities and the social and behavioral sciences with an interest in educating leaders (current and aspiring) about the ways these disciplines can improve organizations.
The lessons we teach from literature, psychology, anthropology, history, and more allow our students to identify, analyze, and solve people-centered problems in organizations. We want all students to leave with an interdisciplinary toolkit they can employ to solve complicated workplace challenges.
The difficulties of the modern workplace almost always involve issues related to people either within or outside of an organization. Successful leaders are those whose understanding of people allows them to find new and creative ways to support innovation, create devoted communities and teams, communicate effectively, and grasp the complexities of the global marketplace.
The core value of our program is diversity. In the MA and Professional Training programs, we focus on bringing together learners from a variety of vocational backgrounds to enhance discussions. When representatives from many specialties interrogate different ideas together, they often develop innovative approaches to people problems. In our BA program, we allow students to take courses in many topics (and require a minor) so that seniors enter their capstone seminar with distinct educational experiences that complement one another.
The best way to address organizational challenges is to recognize that the problems you are facing are often not new. Chances are, somebody in history has already solved the problem you are grappling with now. The disciplines of the humanities and the social and behavioral sciences are a vast repository of solutions to society's most pressing problems. HDO is your guide through these diverse disciplines.
We are glad that you're interested in HDO. One of our three education options - Executive Master's Degree, Professional Training, or Bachelor's Degree - will help advance your personal and professional goals. If you have any questions, please do not hesitate to
contact us
.
Hook 'Em,

Amy Ware, PhD
Director, Human Dimensions of Organizations
External Advisory Board
HDO actively seeks contributions and advice from our External Advisory Board (EAB), which is comprised of representatives from the business, nonprofit, government, and entrepreneurial communities in Texas and throughout the country. EAB members help HDO faculty and staff enhance our mission, strengthen student recruitment and mentorship, and generate a distinct and excellent curriculum.
The EAB keeps faculty apprised of industry trends; likewise, the faculty updates the EAB on academic trends that may improve organizational performance. HDO appreciates the invaluable assistance of our External Advisors:
Isaac Barchas
President & CEO, ATP Foundation, Inc.
Jodi Batten
Owner and Consultant, Sales & Marketing Solutions, LLC
Sean Bauld
President, spxk
President, NeuroBalancing Center
Bjorn Billhardt
CEO, Abilitie
Johnny S. Butler
Director, IC2 Institute
Professor, UT Austin
Bill Chatham
Vice President, Strategic Distribution, ING
Catherine Crago
Strategic Initiatives Manager, Housing Authority of the City of Austin
Skipper Dippel
Author, Wisdom of Generations and The Language of Conscience
Betty Sue Flowers
Professional Consultant, Editor
Professor Emeritus, UT Austin
Michael W. King
President and CEO, Volunteers of America
Sarah O'Dell
Organization Effectiveness and Change Management Consultant, O'Dell Consulting
Harvey Ring
Board of Directors, Sedera Health, Neurochaos Solutions, Inc., OpDots
David Smith
CEO, HBMG Inc.
Duff Stewart
CEO, GSD&M
Peter Strople
Founder and CEO, Zero2
Craig Wynett
Chief Learning Officer (CLO), Procter & Gamble
Campus Resources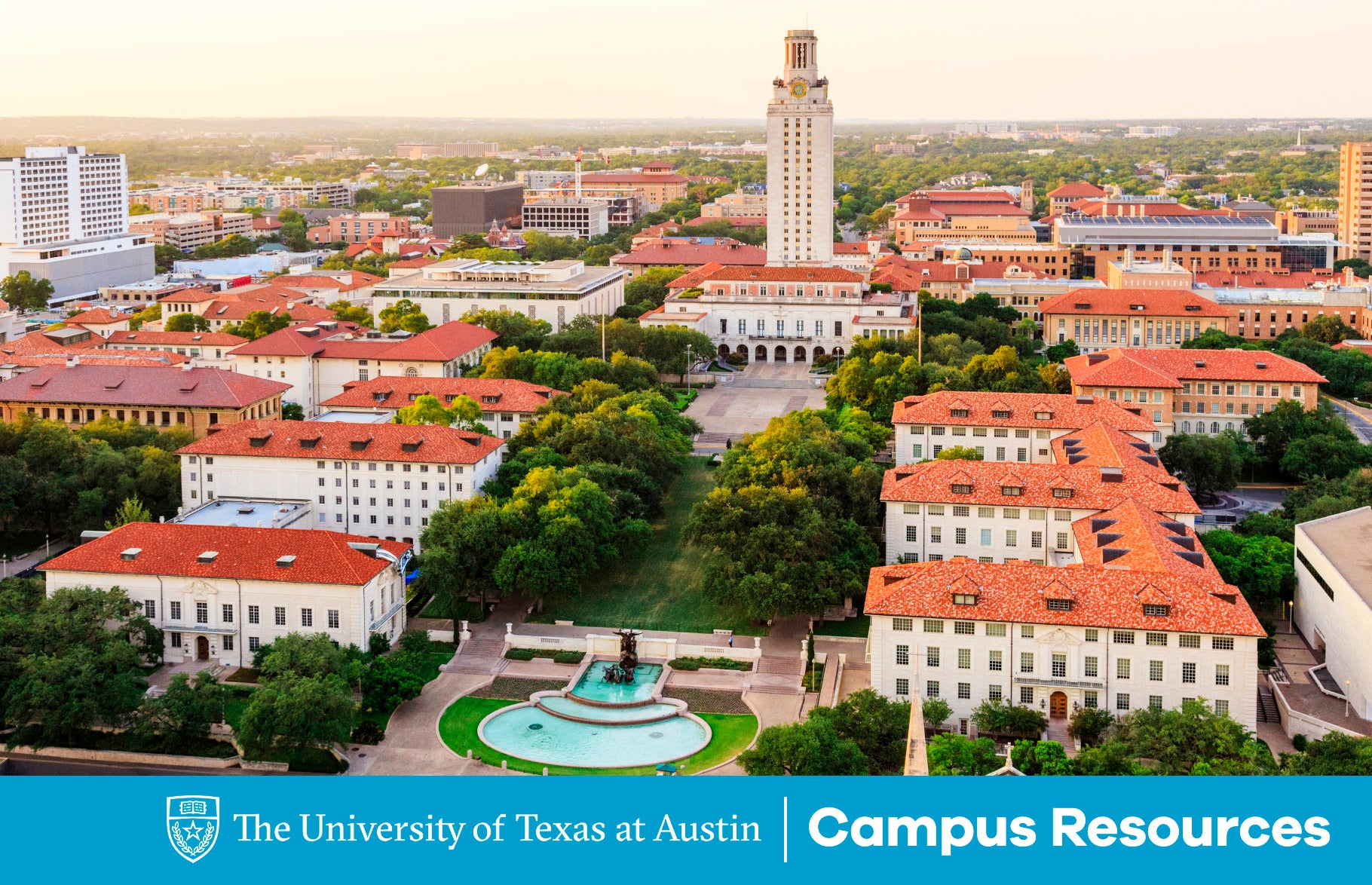 HDO's campus partners offer our students resources unavailable anywhere else. Students may work with these organizations independently, through coursework, or both.
The
Austin Technology Incubator (ATI)
is one of the oldest technology incubators in the United States. ATI helps early-stage technology companies get their first round of funding. Students in the HDO program can use ATI as a resource to understand the complex social ecosystem that supports the development of new companies. ATI can also provide access to organizations that students may use for their capstone projects.
ATI is hosted by the
IC2 Institute
at the University of Texas. The mission of IC2 is to support research in academic areas related to business and to bring that knowledge directly to practitioners. IC2 also hosts conferences on topics like social networks, innovation, and technology transfer. Students in the HDO program will benefit from the research connections of many IC2 faculty who teach in the program.
The
Harry Ransom Center (HRC)
is one of the world's most extensive and prestigious archives. From the complications of creating an organizational archive to the bureaucratic confusion represented in Woodward and Bernstein's Watergate papers, the staff and collections of the HRC offer an invaluable resource for students hoping to understand the connections between the past and the future and the challenges of understanding, organizing, and implementing real-world change.
UT Global Initiative
is part of a consortium of programs taking The University's educational opportunities global. The UT Global Initiative prepares leaders to think creatively, communicate effectively and inspire others to achieve excellence by bringing some of the world's leading educators directly to you.
In addition to the campus organizations mentioned above, HDO Master's and Bachelor's Degree students have access to world-class facilities and resources for no additional fees, including:
Austin, Texas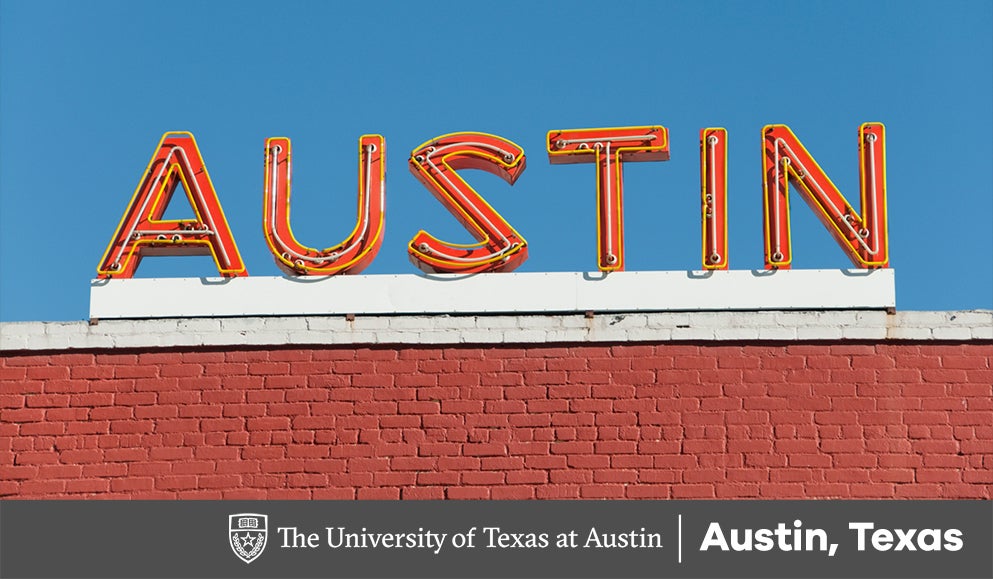 HDO students and Professional Training participants have the benefit of learning in the beautiful, dynamic, and growing city of Austin, Texas. Over the past few decades, Austin has transformed into a major business and cultural hub, welcoming professionals from a range of creative, technology, and entrepreneurial sectors.
Along with this growth, Austin maintains its friendly charm, abundant outdoor resources, world-class music, and eclectic restaurants and food trucks. As an HDO student or Professional Training participant, you'll learn from distinguished faculty and network with top business and nonprofit leaders, but you should also make time to take in the city's various attractions and offerings, including:
Capitol Factory: Entrepreneurial hub; Official Google Tech Hub
Texas State Capitol: Tours of the grounds and galleries available
The Long Center: Performing Arts Center in Downtown Austin
Silicon Hills: High-Tech and Innovation Cluster
Austin City Limits Live: Eclectic music performances at the gorgeous Moody Theatre
Frank Erwin Center: Music, sports, and the arts
Barton Springs Pool: A refreshing constant temperature of 68°F
Congress Bridge Bats: The world's largest urban bat colony
Cathedral of Junk: Keeping Austin Weird, one "yardist" at a time
Lady Bird Johnson Wildflower Center: Environmentalism, education, and exquisite native blooms
The Contemporary: Austin, Texas's primary community art museum
Lyndon B. Johnson Presidential Library and Museum: Explore the legacy of the 36th President; an animatronic LBJ may even share some humorous anecdotes!
6th Street Nightlife: The live music center of the Live Music Capital of the World! Rainey Street District: An emerging bar and restaurant district near downtown Austin
Zilker Park: Gardens, kite festivals, sculpture, and all the outdoor recreation you could want
Artist studio space, tours, and galleries, including Canopy, Big Medium, Pump Project, Austin ArtSpace and more
And so much more!
Support HDO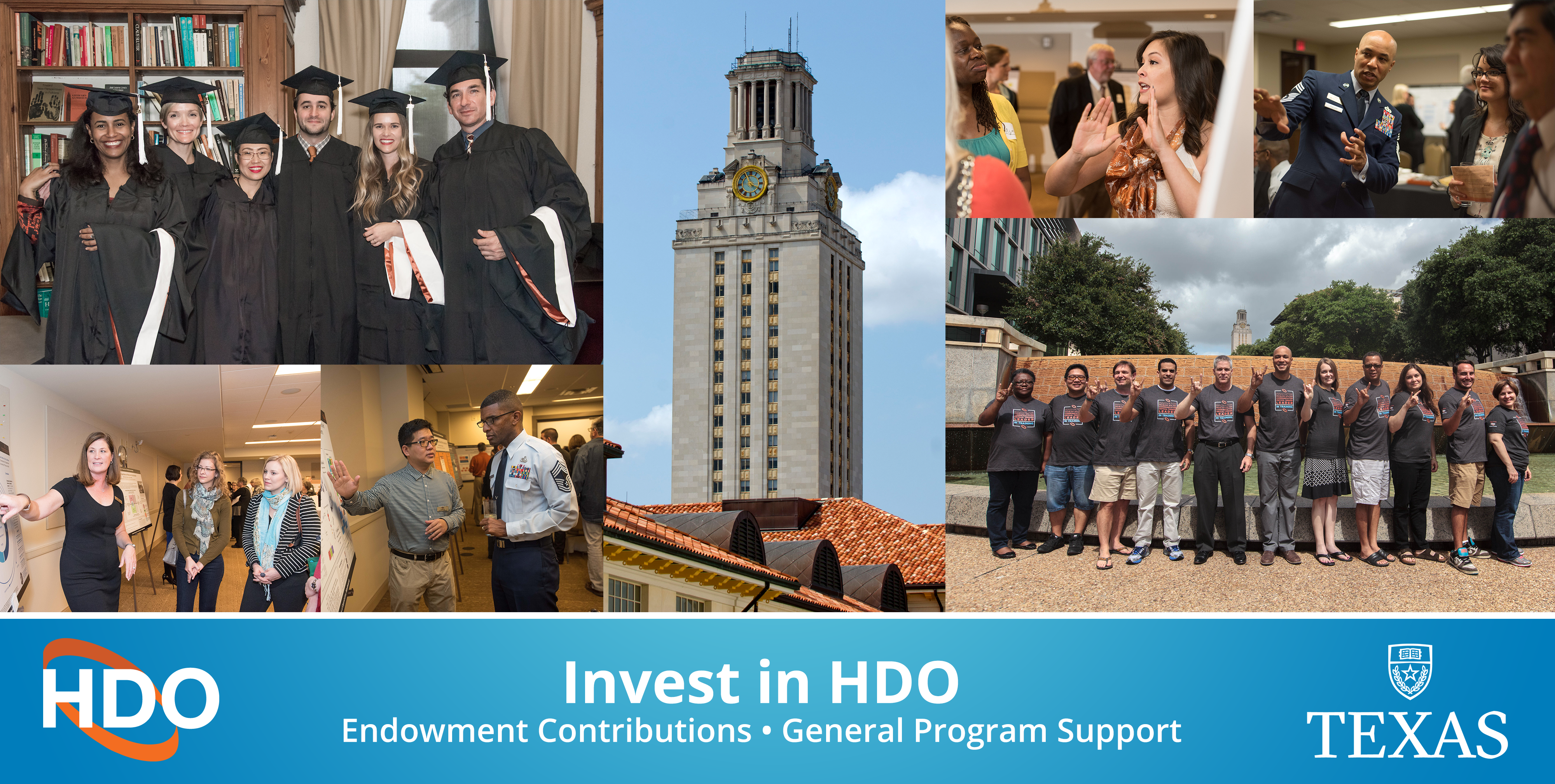 Human Dimensions of Organizations at UT Austin is the first program of its kind in the nation, combining a multidisciplinary exploration of the humanities and the behavioral sciences with real-world applications for modern organizations.
HDO is growing. Quickly. Over the past several years we've launched a new Bachelor's degree, seen enrollment in our 15-month Executive Master's program double, and vastly expanded our Professional Training offerings. We invite you to invest in our efforts to provide innovative education opportunities to current and aspiring leaders.
"We develop our emotional intelligence—and learn skills of empathy, imagination, and understanding—through the humanities. These skills, if cultivated, enable leaders to respond successfully to challenges and opportunities in every sector. Our scientists are better at their work if they read literature; our diplomats and our generals are more effective when they understand languages; our data scientists are able to think beyond algorithms when they experience art and music."
– Peter Salovey, President, Yale University
"The HDO bachelor's program focuses on understanding organizational dynamics and behaviors—how organizations work—which is an essential skill in today's rapidly changing work environment. To succeed, leaders need more than good functional skills; they need to communicate well across silos, understand complex organizational interdependencies, and adapt to ambiguous and rapidly changing business environments."
– Bjorn Billhardt, CEO, Abilitie; HDO External Advisor