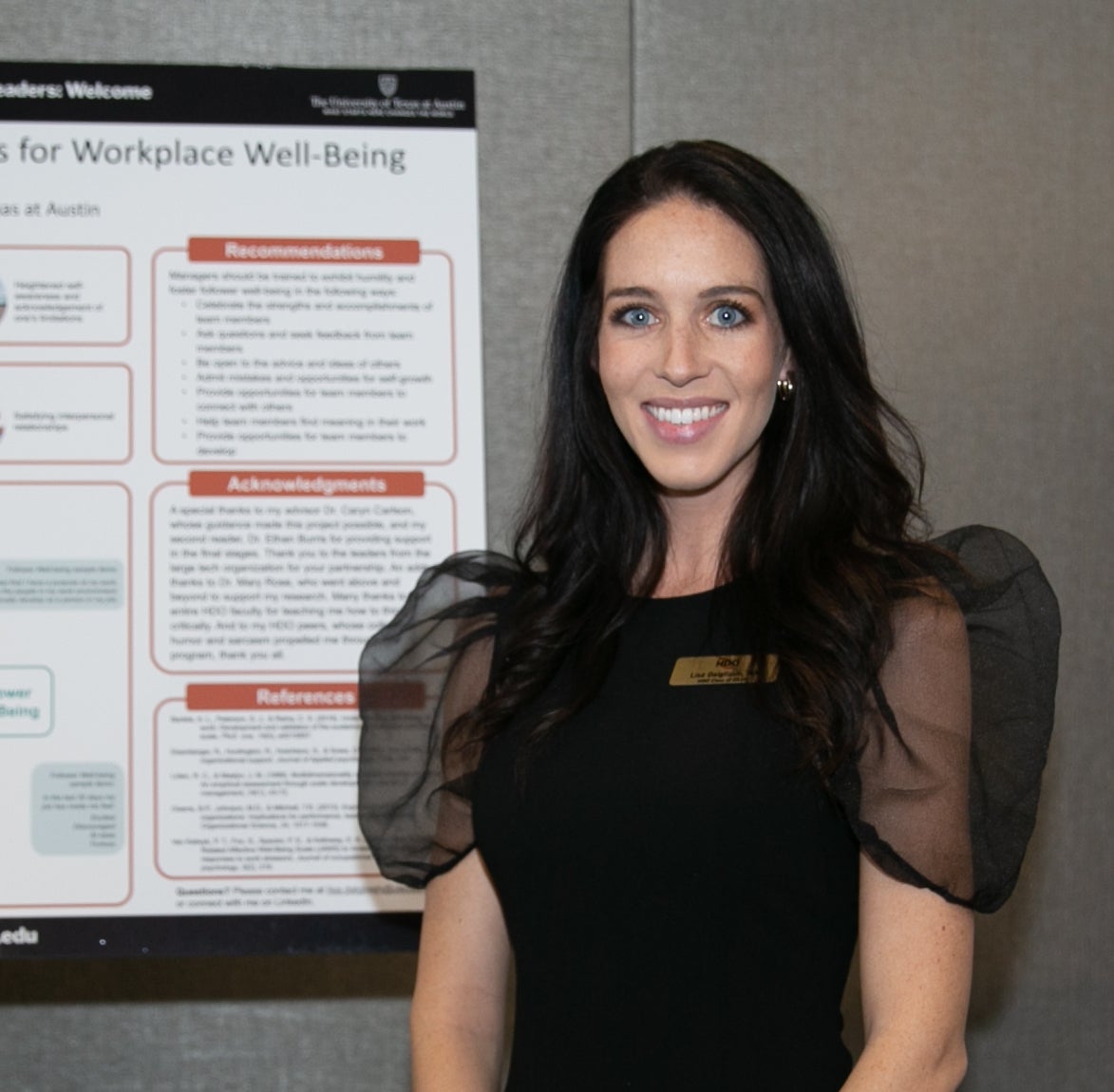 A Transformative Experience
Studying in HDO was one of the most rewarding experiences of my life, and I know I will see the ROI for decades to come.
– Lisa Dalgliesh (Class of 2019)
Application Deadlines
January 15, 2023: Early admission deadline for U.S. citizen and permanent resident applicants; Admission deadline for international applicants
April 1, 2023:  Admission deadline for U.S. citizen and permanent resident applicants
HDO is not requiring GRE or GMAT scores for the fall 2023 admission cycle.
If you are interested in obtaining employer support for your HDO education, please see our Employer Support Resources page.
Because HDO Master's students bring diverse strengths and experiences to the graduate program, the admissions committee carefully considers all criteria supporting a candidate's application. 
Applicants must possess at least 3-5 years of career-level work experience to be considered for admission. An applicant's career path should demonstrate professional growth in a particular field or set of related fields. This experience does not have to be with one employer. Student work experiences provide an invaluable addition to classroom discussions and group projects. 
A Completed Application Includes:
A bachelor's degree in any discipline from a regionally accredited college or university (or a comparable degree from a foreign academic institution)
Official university transcripts
A grade point average of 3.0 in upper-division coursework (and graduate work, if applicable)
International students are required to submit TOEFL scores 
A résumé or CV detailing relevant work and academic experiencer
Three letters of recommendation (these may be professional and/or academic in nature)
Two essays (see prompts below)
All students applying for admission to the HDO Master's program must complete the ApplyTexas online application with the university.
Application Process
Please note, applicants must possess at least 3-5 years of career-level experience to be considered for admission. 
Complete an online application for admissions and pay the application fee at Apply Texas. The application fee is $65 (U.S. citizens/permanent residents) and $90 (International).
Please make sure to select Fall 2023 as your requested semester. You'll select 'Human Dimensions of Organizations' as your major (it's listed under the 'Liberal Arts' area.)
HDO Recommendation: Complete the online Apply Texas application as early as possible. You do not need to wait until you have received your transcripts to complete your application. You will submit your transcripts, essays, resume, etc. after you have officially submitted your application. Your select recommendation letter writers will also be contacted upon application submission.
Within 1–2 business day(s) after submitting and paying for an application, applicants will receive an email message acknowledging that the application has been received. The applicant's UT EID and temporary password will be included in this correspondence, as well as a link to the Online Admissions Status Check page. From that site, applicants will be provided instructions on how to upload application documents.
Required Application Documents
All materials are submitted online. Please do not send hard copies of required application materials to HDO. We are unable to return original copies of documents.
Documents are submitted to the Graduate and International Admissions Center (GIAC) via the directions you will receive in an email after you submit your application.
All admission documents are carefully reviewed by the admissions committee, but particular consideration is given to the two essay questions and the three letters of recommendation.
Essays (Statement of Purpose): There are two (2) required essays. Please explain your interest in joining the HDO program. What particular skills are you hoping to develop through the type of coursework HDO offers?  2. Each HDO student will complete a Capstone Project, which is a research-based study using the lens of humanities or social sciences.  The Capstone Project is a student's opportunity to research an organizational issue in-depth.  What research question might you explore through the Capstone?  To review topics that past HDO students have considered, click here.  (Responses to each essay question should be approximately 500-words.)
Three (3) Letters of Recommendation: When you complete the "References" portion of the application you will submit the names and e-mail addresses of those you have asked to recommend you. Note: you must officially submit your admission application in order for your recommenders to receive an e-mail notification with instructions and information for writers on how to electronically submit their letters.

HDO Recommendation: Encourage your recommenders to submit written letters (vs. only answering a question via the link they are sent) as the admissions committee pays particular attention to recommendation letters. The link will have instructions on how to do this. You are encouraged to select writers who can attest to distinct perspectives of your work experience.  A recommender should be able to discuss how they know you (and for how long), your work abilities, and your capabilities to thrive in the HDO program. These may be professional and/or academic in nature.

CV or Résumé: Your document should detail relevant work and academic experience. You will upload via the online Application Status Check (MyStatus)page.
Transcripts: Official transcripts from every senior college you have attended are required. Upload an official copy to the Status Check page. If you are admitted official hard copy transcripts will be required. Do not mail transcripts. For more information/instructions, please see GIAC's instructions on uploading transcripts.
TOEFL Scores: International applicants must submit TOEFL scores unless they are from an English-only speaking country or have earned a four-year undergraduate degree in an English-speaking country. Detailed TOEFL score submission instructions are available on GIAC's website.
Test Scores: HDO is not requiring GRE or GMAT scores for the fall 2023 admission cycle.
Application Status Check
Visit this link: Application Status Check to upload materials to your application file, edit lists of recommenders or check on the status of an application.
Graduate and International Admissions Center (GIAC)
View contact information for the Graduate and International Admissions Center (GIAC) here.
Utilize this site for specific email addresses for various topics concerning admissions. Please make sure to include your EID in any correspondence for more timely responses.
You will find detailed information about graduate school admission here.
"As brilliant as the faculty were, learning from the wisdom and experience of my cohort mates was equally valuable. I've relied on the cohort network many times since graduating. Choosing a favorite professor or identifying the most useful course is like asking about a favorite flavor of ice cream. All different; equally delightful; impossible to pick one. My biggest takeaway from HDO is the joy of discovery. The faculty 'showed us where to look, but not what to see' (Maori proverb)." 
HDO's Outstanding Professor of the Year for 2018, Clay Spinuzzi, discusses why he enjoys teaching in the program and what differentiates HDO and its students from other graduate programs.
Outliers, Innovators, Leaders,
Welcome