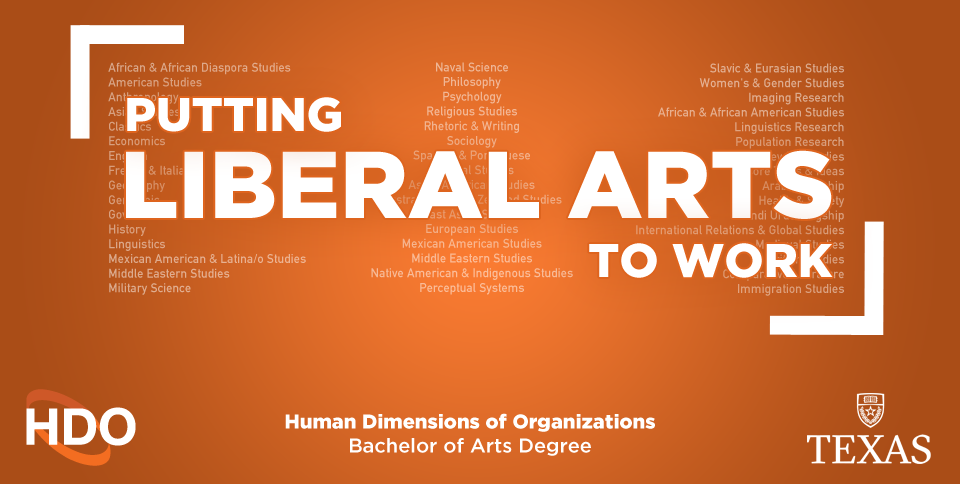 ---

Putting Liberal Arts to Work


Human Dimensions of Organizations (HDO) is a new Bachelor of Arts degree program from the College of Liberal Arts at UT Austin. HDO teaches students to use the disciplines of the liberal arts—the humanities, and the social and behavioral sciences—to understand workplace interactions and how organizations can best serve their customers and clients.
This major is intended for students who envision themselves solving human-centered problems in organizations including business, government, nonprofits, and the military. Career paths from HDO include human resources, people management, nonprofit leadership, and government service.
The Liberal Arts have always taught critical thinking skills and effective communication, which are crucial to success in organizations. These disciplines also provide a deeper understanding of culture, group dynamics, and individual psychology. Students with a deep knowledge of these areas of study are well-suited to address the problems that factors like globalization, regulation, linguistic diversity, cultural differences can cause. Students with this expertise are also poised to shape the work of organizations and their workers.
The HDO BA provides a broad-based exploration of liberal arts as applied to organizations. It allows students to (1) develop effective, persuasive oral and written communication skills; (2) understand ethical behavior in the workplace; (3) broaden their knowledge of the many types of cultures influencing organizations; (4) measure the behavior of people to allow this information to influence decisions, and (5) consider how key lessons from the humanities and the social/behavioral sciences can be applied in organizational settings. It is this last learning outcome that distinguishes HDO from traditional disciplines that make up The University of Texas at Austin's College of Liberal Arts.
---
Liberal Arts and the Modern Professional
Recent news and opinion on the importance of liberal arts education for workplace success.