Faculty, advisors, friends, and family gather to celebrate the achievements of HDO's sixth Master's cohort

Lewis Miller, Assistant Director, HDO
December 10, 2019
The Human Dimensions of Organizations (HDO) Master's Class of 2019 graduated last Friday, December 6, adding twenty new members to the distinguished Longhorn alumni community.
HDO's faculty, staff, and advisors—not to mention the students' families and friends—are incredibly proud of the hard work these graduates put in over the past 15 months!
In their HDO journey, the students explored a diverse range of disciplines, including psychology, literature, sociology, philosophy, anthropology, and rhetoric, and covered topics such as leadership, ethics, diversity, change management, and decision-making.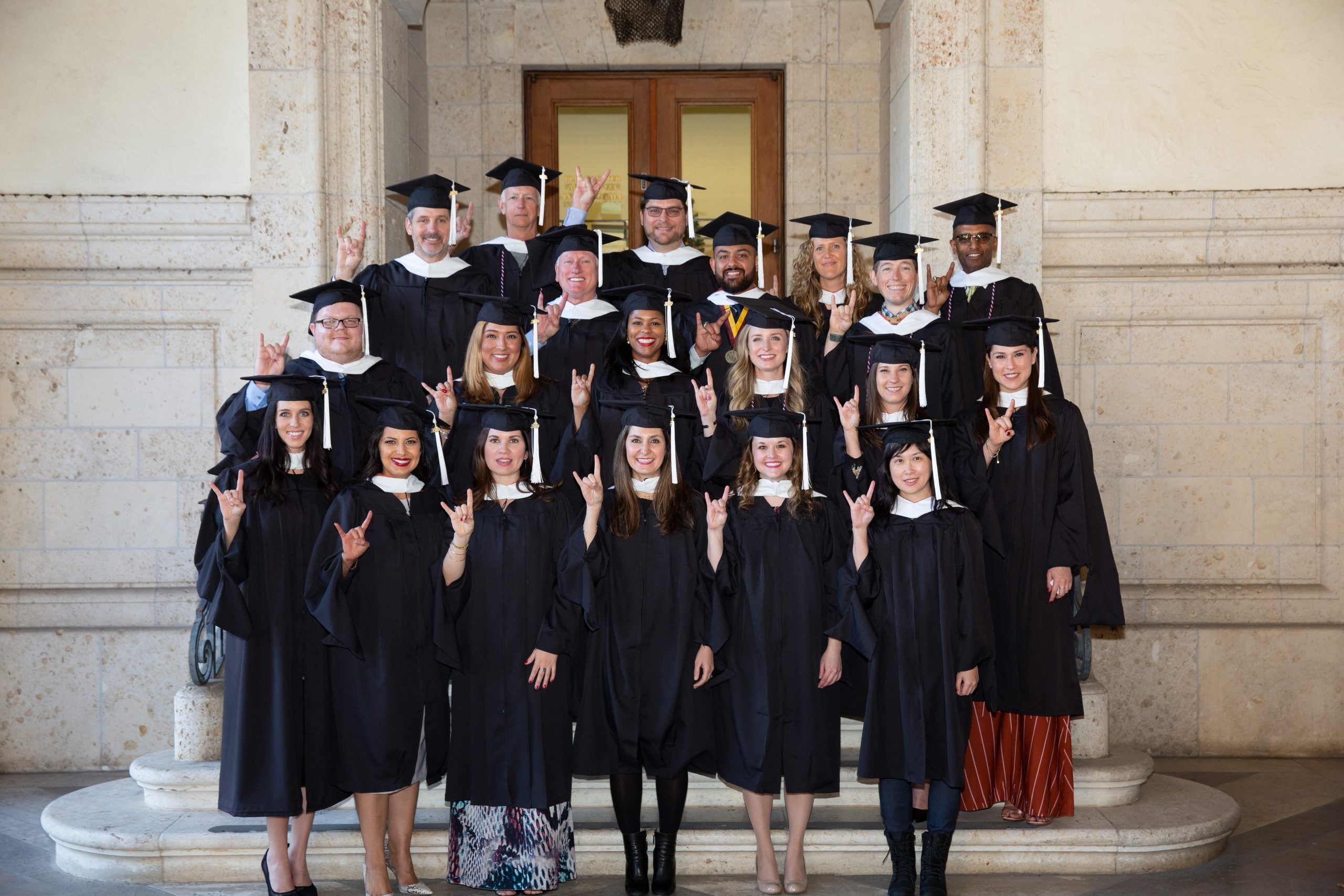 The HDO Master's Class of 2019

Practical Applications of the Humanities for the Modern Workplace
The graduates kicked off the big day by presenting their Capstone Projects at HDO's annual Practical Applications of the Humanities for the Modern Workplace event at UT Austin.
This event, which continues to grow in attendance every year, is an opportunity for HDO students to present their research to the general public, faculty members, business and nonprofit leaders, advisors, family members, and friends.
Each HDO Master's student produces a Capstone Project that allows them to personalize HDO's innovative multidisciplinary curriculum and apply it to an issue(s) of their choosing.
These projects, which examine the applicability of the humanities and social and behavioral sciences to businesses and nonprofit organizations, serve as a culmination of all the work students have put forth in pursuit of their degree.
This year's cohort examined a wide range of organizational issues. Below are just a few examples:
What role does culture play in encouraging or discouraging corporate whistleblowers?
How is hate speech defined and policed on social media platforms?
How can school districts retain top talent over time?
How can community art be a vehicle for social and economic change?
How can we better understand and effectively value emotional labor in the workplace?
How do general perceptions and stereotypes of millennials impact their workplace experience?
Graduation Ceremony
The Capstone Project presentations were followed by a graduation ceremony held at UT Austin's Main Building. HDO Director Amy Ware kicked off the ceremony with some reflections on the achievements of the graduating class. Dr. Ware also spoke about an intellectual ancestor of HDO, a Bell Telephone Company and UPenn program launched in the 1950s that was designed to provide Bell executives an intensive training in the liberal arts.
Ann Stevens, the new Dean of the College of Liberal Arts, then addressed the audience. Dean Stevens focused her remarks on the powerful impact that the HDO curriculum and faculty have on changing students' lives, both professionally and personally. Dean Stevens also expressed her and the College's ongoing support of HDO and her desire to see the program continue to grow.
Dr. Ware then invited Class of 2019 graduates Lisa Dagliesh, Hamza Khan, and Jordan Scott to the podium to present Dr. Elizabeth Richmond-Garza with the 2019 Outstanding Professor of the Year award. The graduates modeled their presentation after Dr. Richmond-Garza's unique teaching style and technique. Dr. Richmond-Garza was selected as the winner of the annual award by a vote of the graduating class.
Jeremi Suri, a professor in UT Austin's Department of History and the Lyndon B. Johnson School of Public Affairs, followed with a passionate commencement speech. Dr. Suri, whose most recent book is focused on the American presidency, used George Washington as an example of integrity in leadership and challenged the graduates to pursue success, but not at the cost of integrity.
Dr. Suri's speech which was followed by a recognition of each Class of 2019 graduate as well as closing remarks by Dr. Art Markman. Dr. Markman, who now leads IC2 (a UT Austin institute that focuses on innovation and entrepreneurship), served as HDO's Director from 2011 to 2018.
Congratulations to the HDO Class of 2019!
About HDO
The University of Texas at Austin is proud to offer Human Dimensions of Organizations, a first of its kind in the nation program. Drawing on an innovative combination of liberal arts, behavioral sciences, and social sciences, we created HDO to meet a need not addressed by existing education options: providing a deep understanding of people, the key components of any organization.
Technical expertise in a particular domain is a necessary element for workplace success. However, recognizing behaviors and motivations, communicating across organizations and cultures, and thinking strategically to solve complex problems – a few examples of core competencies developed in HDO – are the skills that create transformational leaders.