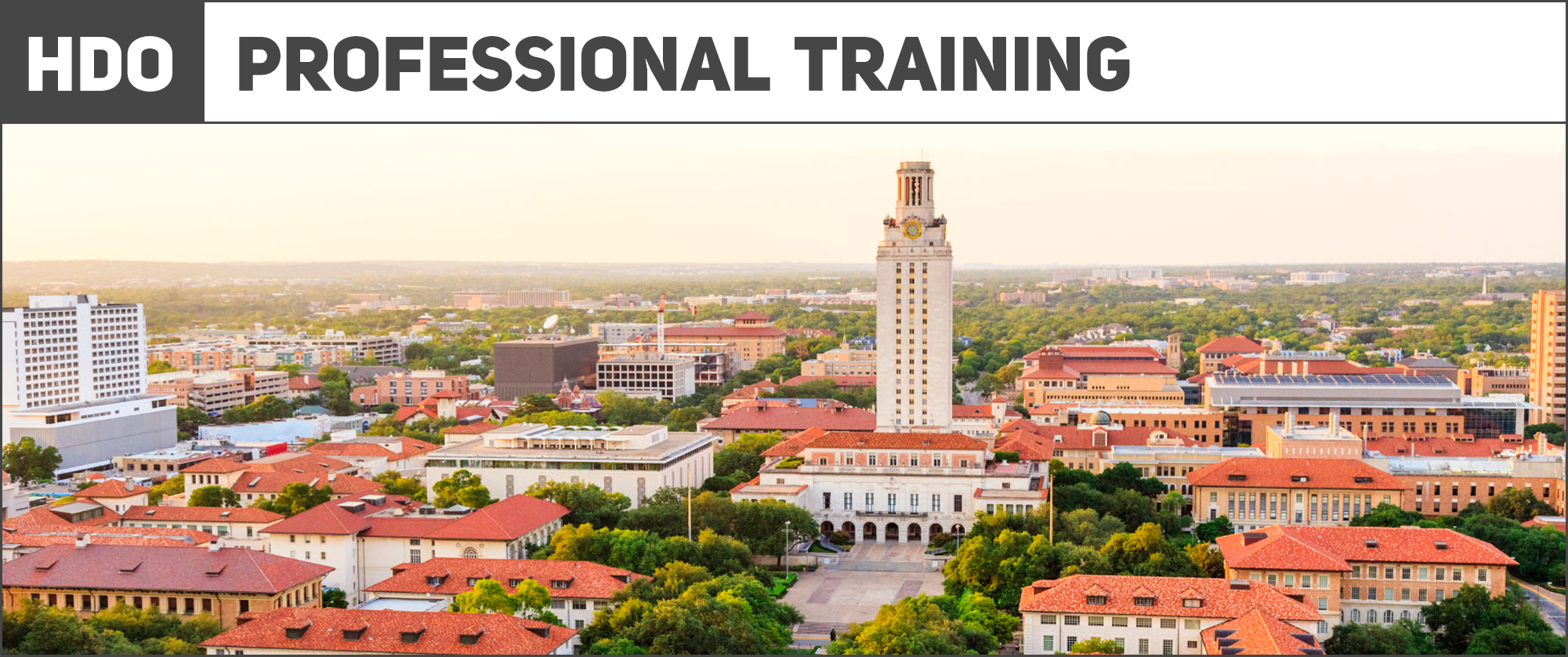 » One-Day Professional Seminars | Four-Day Certificate Programs | Professional Training Home
Group Training Options
HDO offers three options for bringing our high-impact Professional Training to your organization: Discounted Seminar Registration Packages, Private Courses, and Custom Training Programs.
Each of these options has its own distinct advantages depending on your group's professional development needs. Our clients often opt for a combination of multiple options to meet specific training goals for different teams within their organization.
Descriptions of each group training option are available below. If you have any questions or if you would like to discuss your training needs, please contact HDO staff.
---
"HDO created a custom program on innovation and culture change for our senior management team. The faculty and staff listened to our needs and delivered a series of engaging courses that provided useful and insightful information on how to instill and reinforce innovative thinking in the workplace."
Richard J. Gergasko, President & CEO, Texas Mutual Insurance Company
---
Seminar Registration Packages

Select a package of discounted, non-expiring registrations for HDO's One-Day Professional Seminars.
Your registrations can be used at any of our one-day courses.
Benefits:
Your team members can use the registrations to participate in any course(s), based on their individual professional development needs

Save up to 50% off standard course fees

Registrations never expire; use them at your convenience

Payment plan options available
Purchase as many registrations as your organization needs and send up to eight participants to any course(s). We limit the number of participants from any particular organization in each course because we have found that innovative ideas and engaging discussions emerge more frequently when a wide range of industry sectors are represented in our seminars. If you would like more than eight people to participate in a particular course, please see the Private Courses option below.
---
Private Courses

Exclusive runs of one or more of HDO's One-Day Professional Seminars for your organization.
Select any of our one-day courses for a private run to be held on-campus, at your offices, or at an off-site location of your choosing.
There is no cap on the number of participants. Our recommendation is to limit the number of participants to 40 or fewer per course; however, course content and structure but can be adapted to larger groups. Multiple course runs can also be scheduled for larger groups and/or different teams/divisions within your organization.
Benefits:
Focus course discussions and exercises on your team's specific challenges

Choose the course dates and times that work best for your team's schedule

Choose your course location: on campus, at your offices, or at an off-site location

On-campus courses include meeting space, parking, lunch, refreshments, and WiFi access

Pre-seminar surveys and discussions provide the course leader(s) with information regarding your organization's primary challenges and goals for the course
---
Custom Training Programs

High-impact training led by UT Austin's top faculty.
Our approach to developing custom programs is designed to deliver strategic, lasting value to your organization. Our Curriculum Development Team will construct an immediately relevant, rewarding, and transformative program to address the core challenges your organization is confronting.
Each custom training program is built on a combination of academic theory and practical application to provide participants with new skills, knowledge, and problem solving strategies to boost individual and organizational performance.
Whether your needs are broad and thematic or centered around highly specialized issues, HDO's distinguished faculty have the expertise and experience to help you reach your goals.
Benefits:
Curriculum developed and led by top UT Austin faculty: Leading-edge research and expertise applied to your specific challenges

Group size is completely flexible: Program content and instruction methods will be designed to be highly effective for your audience

Multi-Level Training: For clients who have groups of employees with varying professional development needs (based on experience level, division, project assignment, etc.), HDO can run the program multiple times with a focus on each group's specific needs

Every Custom Program includes pre-program meetings and content discussions with HDO faculty and staff, participant materials, a custom website for your program, and post-training materials for continued learning

Program content, length, and location are fully customizable; Meeting space, parking, lunch, refreshments, and WiFi access are also included for on-campus programs

Payment plan options available
Teams and individuals from over 300 companies, government agencies, and nonprofit organizations have participated in HDO Professional Training, including: