How an NGO's deferential approach created the conditions for a successful vaccination campaign
Amy Ware, Ph.D.
Director, Human Dimensions of Organizations
November 15, 2021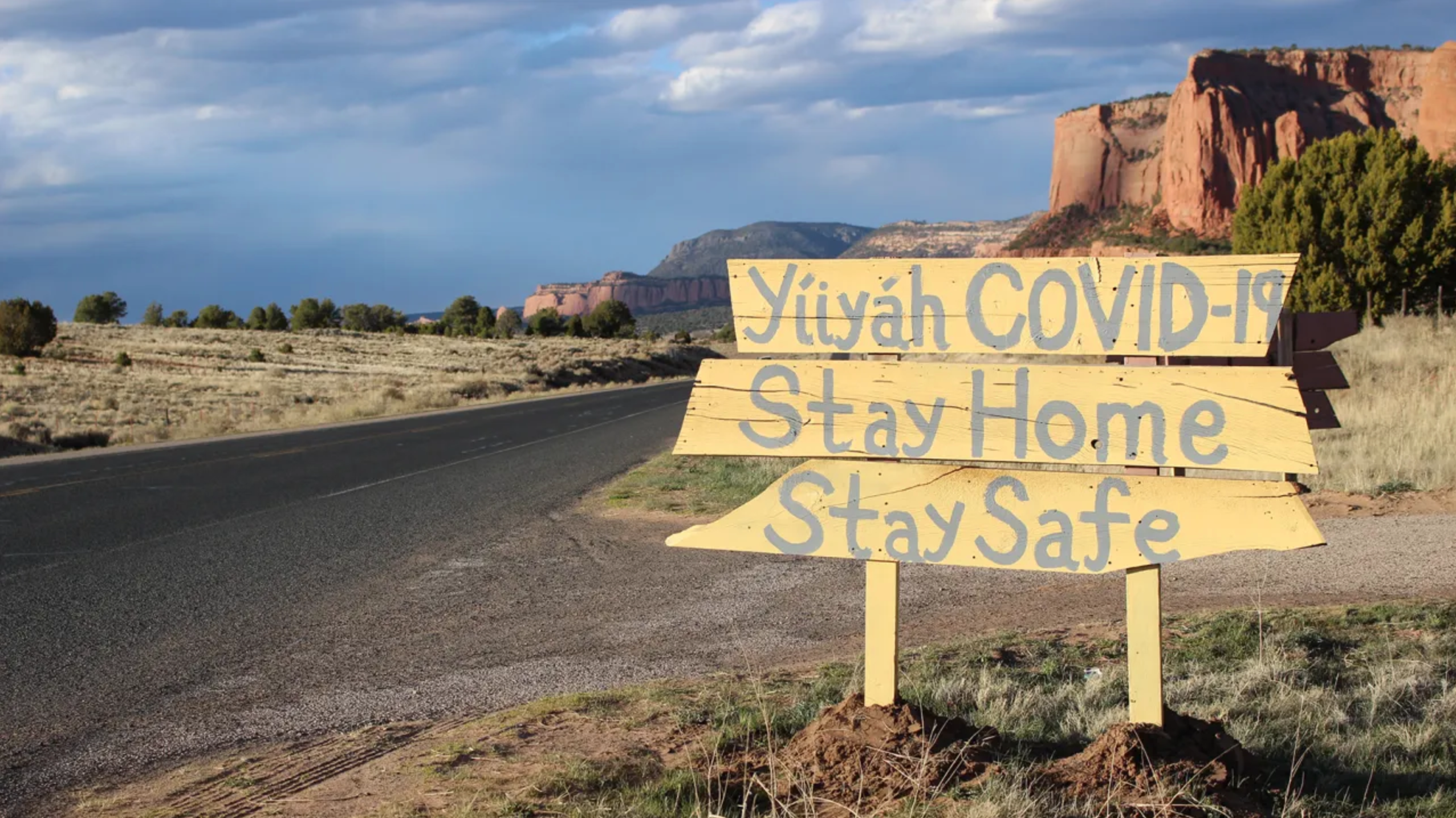 A roadside sign in the Navajo National in April of 2020. Photo by Jonathan Schell for Direct Relief
American Indians and Alaska Natives boast the highest vaccination rates in the United States when broken down by race/ethnicity. When broken down by race/ethnicity. One reason for this is surely a response to the disproportional effects of the pandemic on tribal citizens: an infection rate 1.6 times higher than the white, non-Hispanic population, a hospitalization rate 3.5 times higher, and a death rate 2.4 times higher. But that is only part of the story.
COVID-19 is only one of many infectious diseases that have spread, sometimes with intention, across Indian Country since colonial invasion. The trend of underfunding the Indian Health Service (established in 1955) has further betrayed tribal nations' trust in US-led efforts to protect their physical wellbeing. In mid-2020, various nations sued the federal government because the CARES Act did not provide any funding for tribes in its first draft and delayed the money once the act went into effect. Without belaboring the point, let's say that each tribal nation in what is now the United States faced and continues to face various violations of trust at the hands of the many organizations that make up the United States.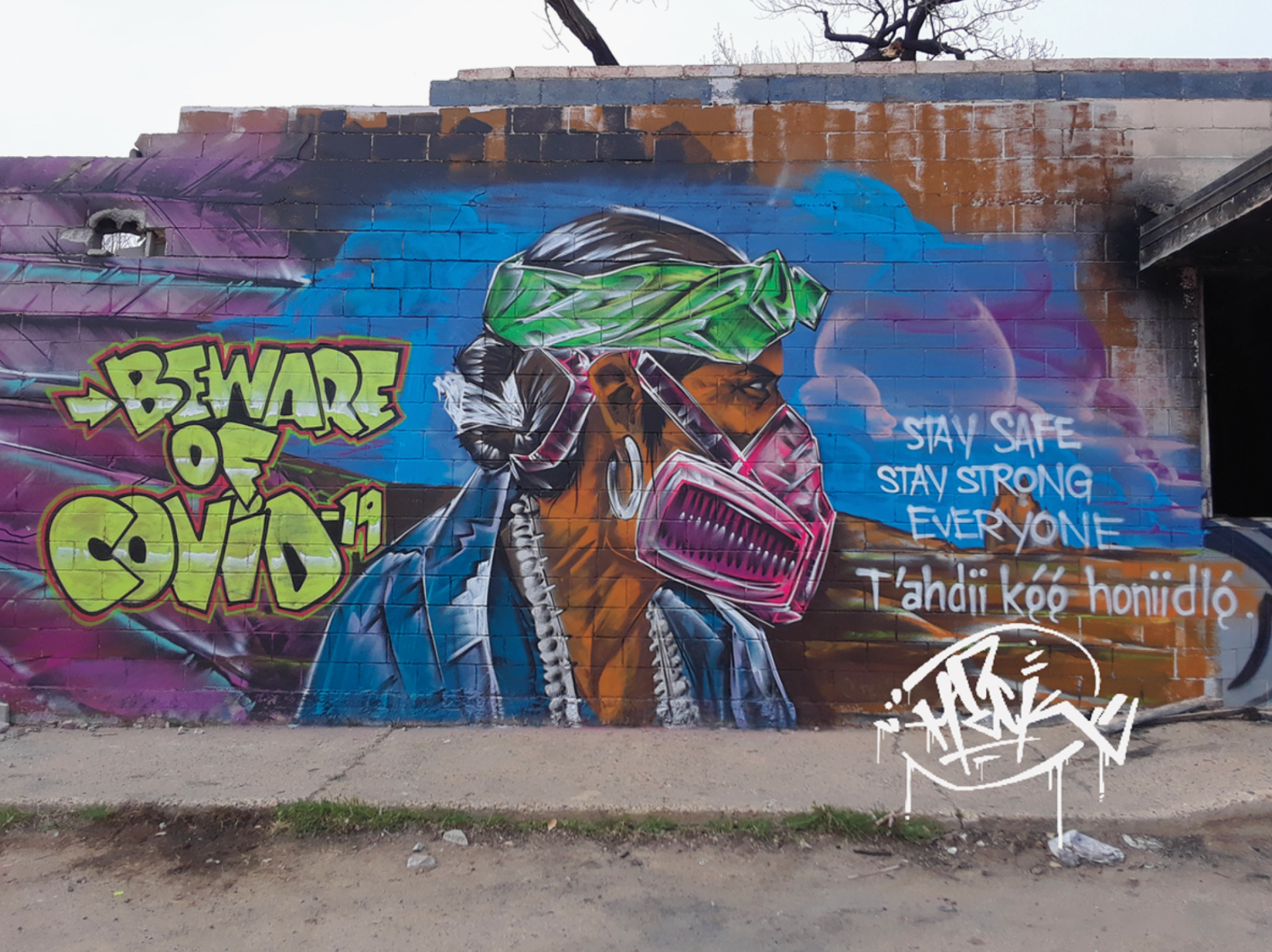 Mural and photo by I.C. Lee
In spring 2020, when cases spiked across the Southwest, particularly in the Navajo (Diné) Nation and the 19 Pueblos of New Mexico, there was little tribal access to testing or treatment due to the fallout from the CARES Act. Two US-based nurses and midwives for Doctors without Borders (MSF), Ruth Kauffman and Felicia Mancini, took action. The two began a series of listening sessions and conversations with these tribal leaders and, as Kauffman describes, "we soon received an invitation to begin work in some of the most heavily impacted communities [my emphasis]."  
Wait. An invitation? Let's review: Before joining New Mexico tribes in their COVID fight, MSF (1) listened, (2) discussed, and (3) awaited an invitation. Two organizations–the tribal nation and MSF–worked together effectively because MSF acknowledged that ultimate authority sat with the tribe. The approach turns historical trends in Native/non-Native history on their heads. In fact, it turns many global indigenous displacement practices on their heads. The steps MSF took leading to an invitation assumed Native sovereignty, distinction, and independence. 
Doctors without Borders left these tribal nations two months after arrival. In that short time, MSF provided equipment, infrastructure, and training. This led to community-based healthcare and government regulations that are tribally specific. As vaccine rollout began, the US government allowed tribes to decide whether to receive vaccines through the state or through the Indian Health Service. The latter option, which many tribes chose, allowed tribal nations to create their own rollout plans. For example, several tribes opted to vaccinate culture keepers (Native-language speakers and traditional tribal leaders) first, a process that differed from state-implemented protocols.  
There is an HDO lesson here. Nation-states and multinational corporations, among others, frequently forgo MSF's initial steps–listen, discuss, wait–before setting up shop in new markets or territories. To truly listen, we must pipe down and actively absorb another's perspective. A discussion requires a respectful and equitable two-way conversation. An invitation is unlikely to follow if presumption and hubris rule any expansion, whether economic or humanitarian.
Some may believe that MSF's partnership with indigenous peoples is different from governmental and corporate cultural and geographic takeovers because MSF is a humanitarian non-government organization (NGO). HDO's analytical framework counters these tendencies to divide organizations into types, as you never know what one type might learn from another. This case shows that, when two or more organizations are involved, long-term success, whether defined by profit or improved health outcomes, depends on a careful process guided early by listening, discussing, and agreement. Deference to those whose land and cultures may be impacted–be they nations, neighborhoods, cities, or tribal lands–is essential. 
* For more on COVID-19 on the Navajo Nation, follow President Jonathan Nez's twitter. For more on the pandemic's effect on tribes, read Indian Country Today.
Amy received her BA from Smith College, her MA from UCLA, and her PhD from UT Austin. She is the author of The Cherokee Kid: Will Rogers, Tribal Identity, and the Making of an American Icon (2015), which won the Oklahoma Historical Society's award for Outstanding Book on Oklahoma History. Her current academic work explores the ways US minorities and women were educated in business in the late-nineteenth and early-twentieth centuries.
In 2011, Amy joined UT Austin psychologist Art Markman in developing an innovative approach to interdisciplinary, liberal-arts based education: one that considers the applicability of the humanities and social sciences to organizational contexts. Together, they developed Human Dimensions of Organizations (HDO), which teaches undergraduates and mid-career professionals how traditional liberal-arts disciplines can improve organizational effectiveness.