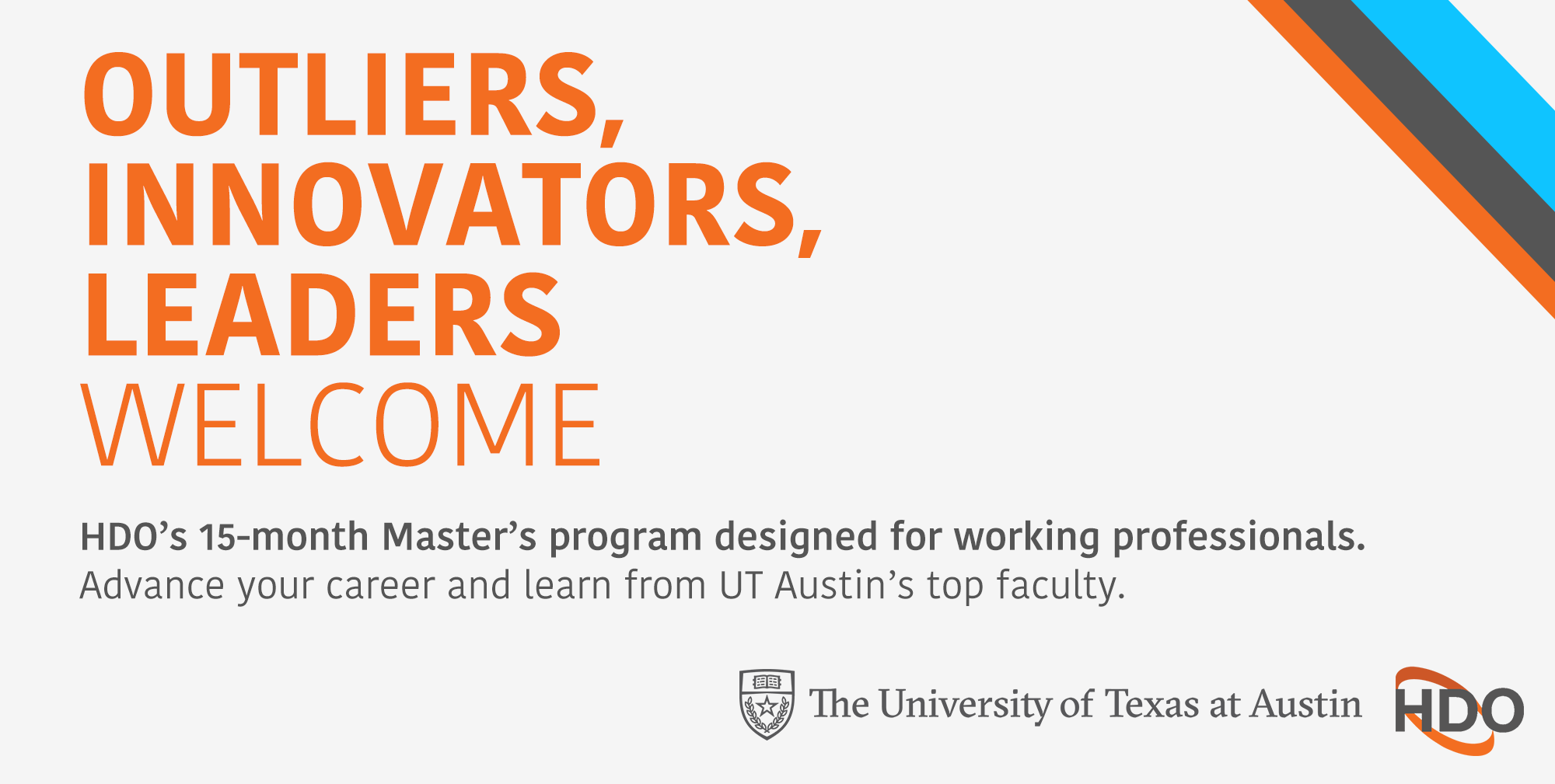 HDO Master's Student Handbook

Notice: This handbook's content is for informational purposes only and is not an official publication of The University of Texas at Austin. For official rules, regulations, and degree requirements, please refer to The University's Graduate Catalog and the General Information Bulletin, which can be accessed online or purchased at any University-area bookstore or from the Main Building Information Desk.
---

HANDBOOK CONTENTS: 
Program Overview
Program Overview
The Master of Arts degree in the Human Dimensions of Organizations (HDO) provides working professionals with a comprehensive understanding of human behavior and experience as it relates to today's global marketplace. To deepen students' understanding of these principles, HDO courses also focus on conceptualizing and implementing organizational change.
HDO's curriculum requires students to examine real-world challenges through a variety of disciplinary lenses. By acquiring skills central to specific disciplines, students are able to draw on a range of approaches to analyze, consider, and improve the structure and function of their organizations.
Most HDO graduate students are employed full time. Because of the high demands placed on employed students, HDO organizes its coursework to allow students to balance work and education.
This 15-month degree program offers classes on Friday evenings and Saturdays, twice a month, on the university's campus. Each semester begins with an intensive week of study on campus.
For those unable to commute to Austin, HDO has developed a distance-learning program. There is a one-time $1,000 surcharge for distance-learners. This fee covers the technology that enables HDO's distance learners to be fully interactive with their in-class colleagues from anywhere in the world. Distance learners attend class in real time via our virtual classroom and participate actively in classroom discussions. Distance learners are also required to be on-campus for the intensive weeks at the beginning of the Fall I, Spring, and Summer semesters; however, they may participate in all other class meetings virtually.
Admission Requirements
Prospective students should possess at least three years of professional experience in the private, nonprofit, government, and/or military sectors.
Other admission requirements include an above-average score on the Graduate Record Examination (GRE) or the Graduate Management Admission Test (GMAT)*; a resume or curriculum vitae (CV); a bachelor's degree and grade point average of at least 3.0; three letters of recommendation; and two essays. The Test of English as a Foreign Language (TOEFL) is required of all international students.
*HDO has received a GRE/GMAT waiver for qualified applicants. Please visit the HDO Admissions page to learn more. 
For more application information, see the Graduate School's website. Click on the "Apply for Grad School" link on the right to access our application.
Program Requirements
The degree requires 36 credit hours spread across four successive semesters: Fall, Spring, Summer, and the following Fall. These classes include a two-semester core course; nine courses offering depth in topics relevant to the degree; and six Capstone Project hours completed during the last semester of the program. All courses are required.
Upon successful completion of all program requirements, The University of Texas at Austin confers a Master of Arts in Human Dimensions of Organizations.
Requirements include:
Orientation and Intensives: A mandatory five-day orientation session (running from Wednesday to Sunday), begins the first fall semester. During this time, new students will be introduced to UT Austin's campus, meet HDO faculty, staff, and advisors, and discuss the details of the program's academic requirements. Students will also begin their coursework during this period.
Note that similar five-day intensives are held the following January and June (at the start of spring and summer semesters). The final fall semester does not include an intensive period, rather it concludes with a graduation weekend that includes Capstone Project presentations and graduation ceremonies.
Courses: Classes meet every two weeks on Friday evening and Saturday. The five-day intensives (see above) will also include an introduction to each semester's courses.
Capstone Project: HDO students' final semester will be dedicated to completing a Capstone Project, which will consist of both a visual presentation and a written report. Before a student can begin their Capstone Project (referred to as a Master's Report by the University), s/he must submit their topic and supervisor's name to HDO staff.
Attendance: Attendance at all class meetings and intensive weeks is expected and required. Students are responsible for contacting individual faculty before any absence to arrange ways to make up any work missed.
Grade Maintenance: All students must maintain a B average throughout their HDO coursework. Failure in any class will result in expulsion from the HDO graduate program.
Courses
Note: Course Descriptions and Availability Are Subject to Change.
HDO285: Organizational Ethics (2 Credit Hours)
Students taking this course explore ethics as they pertain to organizational contexts. Students will understand the philosophical underpinnings of ethics, examine case studies of ethics in organizations, and develop an ethical stance in their own organization.
HDO287: The Structure of Organizations (2 Credit Hours)
Students will be exposed to a multidisciplinary approach to understanding how money, information, and influence flow through organizations and between related organizations. Students learn theories of organizational structure from disciplines including anthropology, political science, and sociology. They are exposed to methods for analyzing the structure of organizations and markets.
HDO 289: Writing and Researching Organizations (2 Credit Hours)
Students examine various approaches to organizational writing and research. They will learn how to plan, organize, and execute and organization-based research project.
HDO380: Cultural Perspectives on the Human Dimensions of Organizations (3 Credit Hours)
This foundational multidisciplinary course provides a survey of various group dynamics that affect the internal and external effectiveness of organizations. It balances breadth with depth and is designed to give a coherent overview of the HDO degree as well as a starting point for the capstone project.
HDO381: Individual Perspectives on the Human Dimensions of Organizations (3 Credit Hours)
This foundational course provides a general introduction to the roles of individuals' relationships to organizations from a multidisciplinary perspective. It balances breadth with depth and is designed to give a coherent overview of the HDO degree as well as assist students in developing their capstone projects. The course focuses explicitly on managing large-scale projects that involve data.
HDO382: Approaches to Leadership (3 Credit Hours)
Students taking this course examine broad aspects of leadership in organizations through a variety of disciplinary lenses. Students will be encouraged to draw on a range of approaches and materials in considering and discussing what makes a leader effective and how circumstances influence a leader's success.
HDO383: Society, Culture, and Diversity (3 Credit Hours)
Students taking this course examine multidisciplinary frameworks for understanding society and culture in organizations. Students will be encouraged to draw on a range of approaches and materials to consider how and why diverse groups intersect, fail, or succeed in group environments. The effects of gender, race/ethnicity, sexual orientation, culture, and globalization on organizational change may be discussed.
HDO384: Organizational Inertia, Decision-Making, and Change (3 Credit Hours)
Students are exposed to theories and methods for understanding how organizational environments support habits, and how individuals and groups make decisions.  This work is then put into practice to explore methods for organizational change.
HDO386: Persuasion and Argumentation (3 Credit Hours)
Students taking this course learn how effective persuasion works within organizations and at the individual level. Drawing from multidisciplinary perspectives, students will also learn how to examine and evaluate persuasion, and how to persuade others.
HDO 390: Qualitative Research in Organizations (3 Credit Hours)
Students taking this course learn qualitative approaches to studying people in organizational settings. Approaches may include narrative, phenomenology, grounded theory, ethnography, case studies, and others. Students will learn how to design, conduct, and analyze qualitative research.
HDO391: Quantitative Research in Organizations (3 Credit Hours)
Students taking this course learn quantitative approaches for studying the human dimensions of organizations. They will examine the mechanics and assumptions of common methods in quantitative methods, including experimental design, survey research, and quantitative coding of archival data. The course emphasizes students' ability to know and identify what types of research questions are best-suited to the different quantitative approaches. Students will also review the types of data that various designs produce, and learn about some basic statistical assessments of quantitative data.
HDO695: Capstone Project (6 Credit Hours)
With the approval of the graduate advisor, each student will complete a capstone project that must be written, submitted, and presented. This capstone project is the culmination of the work in the MA and, when possible, should consider a problem in the student's own organization.

Administrative Basics
Graduate Student Responsibilities
You are responsible for understanding the rules and policies that govern your academic degree. HDO's Graduate Advisor and Graduate Coordinator are available to answer questions. In particular, students must know and meet the requirements of his or her degree program; must meet prerequisites and take courses in the proper sequence to ensure orderly and timely progress; must seek advice about degree requirements and adhere to University policies when necessary.
There are two essential University references: The General Information Bulletin and The Graduate Catalog. Students must know and abide by the academic and disciplinary policies given in these publications, including rules governing quantity of work, the standard of work required to continue at The University, warning status and scholastic dismissal, and enforced withdrawal.
The Graduate School
As a graduate student, you are admitted to both the Master's Program in Human Dimensions of Organizations and the Graduate School of The University of Texas at Austin. All graduate degrees are the responsibility of the Graduate School.
The Graduate School includes the Vice President and Dean of the Graduate School and staff, plus approximately 100 Graduate Studies Committees. The Graduate School can be reached at (512) 471-4511.
Each department or field of study offering a graduate degree has a Graduate Studies Committee composed of active assistant professors, associate professors, and full professors (tenured and tenure-track faculty). Each Graduate Studies Committee sets policy and supervises its graduate program.
Approximately 30 faculty members from various Graduate Studies Committees, plus six graduate students, serve as representatives in the Graduate Assembly, the legislative body of the Graduate School. There is also a student organization concerned with issues related to graduate study, called the Graduate Student Assembly (GSA). Any graduate student is welcome as a member.
UT EID 
All persons associated with UT Austin or who need to complete online transitions with the University will be assigned a UT EID. This electronic identifier (or "user name") will serve as your primary means of identification for all UT Austin services.
When the UT EID and password have been assigned, it will be necessary to login to a secure UT web service and choose a new password. If there was not a password provided, it means a UT EID has already been activated with a self-chosen password.
Please include your UT EID along with your full name and address on all correspondence.
Personal Information
It is the student's responsibility to give correct local and permanent addresses, telephone numbers and email address to both HDO staff and to the University's Office of the Registrar. A student may update his or her local and permanent addresses and telephone numbers as well as email address listings here.
If any changes occur, please notify the graduate coordinator in addition to updating your information on UT Direct.
Communication
Students are required to monitor all HDO communication channels—email, listservs, Canvas, etc.—on a regular basis to keep current on issues and events pertaining to individual courses and to the program in general.
Email: If a University of Texas at Austin email has not been set up for you, visit this page for instructions. Click here to update your preferred email address for receiving correspondence. It is HDO's policy to send all student correspondence (invoices, receipts, notifications, reminders, etc.) to the email address listed here.
The University's email policy may be viewed here. The University of Texas at Austin views email as "a mechanism for official University communications to students." It is the student's responsibility to keep his/her email address updated with HDO and the University. Note that "e-mail returned to the University with 'User Unknown' is not an acceptable excuse for missed communication." Students are responsible for checking their email on frequently to ensure that they are receiving important messages. Additionally, "undeliverable messages returned because of either a full inbox or use of a 'spam' filter will be considered delivered without further action required of the University."
Listservs: HDO considers its listservs to be extensions of the email system. Listservs are used for student discussion on courses as well as for administrative notifications and reminders (faculty are not on the student listserv). Information on UT's listserv system (UT Lists) is available here. All students will be automatically subscribed to the listserv for their class year and are expected to remain subscribed for the duration of their HDO education.
Canvas: Canvas is an online course management system used by many instructors across the University and allows "faculty and students to communicate and collaborate through real-time chats, threaded discussions, class email, and online file exchanges." Further information regarding Canvas can be found here.
Social Media: HDO maintains an active social media presence on Facebook, Twitter, and LinkedIn. Following these channels is optional for HDO Master's students. However, given that news articles, blog posts, and events of interest to HDO students will be posted on these networks, students are encouraged to participate.
Academic Advising
The University provides information and academic advice to students to assist them in making proper academic decisions. The Dean of each college or school is responsible for providing an effective system of information dissemination and advising that is appropriate to the academic programs of that college or school. Each unit will seek to provide the most current and accurate information and advice possible. The student is responsible for seeking advice, for knowing and meeting the requirements of the degree program of his or her interest, for enrolling in courses appropriate to that degree program, and for taking courses in the proper sequence to ensure orderly and timely progress toward the degree.
Advising and assistance are provided to students in the HDO program through a combination of resources including the Graduate Advisor (David Beaver), the Assistant Graduate Advisor (Clay Spinuzzi), and the Associate Director (Amy Ware).
Registration Procedures
HDO courses are preset. An HDO staff member will register all HDO students in their appropriate courses. Students are not responsible for course registration. However, when an HDO staff member contacts you regarding registration for the upcoming semester (likely in October and March), it is important that you respond promptly so that you will be enrolled in courses by the University's deadline.
Only students admitted to the Master of Arts degree in Human Dimensions of Organizations may be enrolled in our courses. Conversely, HDO students are not permitted to take courses outside this program of study. Students will not receive degree credit for courses taken in other departments at The University of Texas at Austin.
In the event that HDO staff is unable to register a student during the normal registration period due to a registration bar, late tuition payment, or for any other reason not due to staff error, the student will be charged a late registration fee in addition to normal tuition. See section Financial Information section below for details on these charges.
The HDO Program does not run on the typical UT Austin schedule. As a result, there will be times when students will attend class although they have not been officially enrolled in the courses. For example, the first HDO class session may begin on August 17 while the official UT Austin fall semester begins on August 27. Therefore, university databases might not be ready to accept and/or process data when HDO classes begin, which could complicate using some university resources such as the Library and Canvas system. Additionally, facilities such as the campus computer store, recreational center and health services center (including insurance) might not be accessible until the official start date of each semester.
Registration Bars
Students may acquire "bars" on their records, preventing course registration. These bars may arise from insufficient documentation at a University office, unpaid parking violations, library fines, or unresolved conditions of enrollment. If the program coordinator finds a bar on a student's record that prevents registration, the student will be immediately notified. These must be cleared at once due to the time constraints of registration.
Career Coaching & Services
Career Coaching
All HDO Master's students have access to individual and group sessions with a highly trained career coach. These sessions are included in program tuition. The career coach understands the HDO curriculum and philosophy and its applicability to the business, government, nonprofit, and military sectors.
Whether your goal is advancement within your current organization or moving on to a new job, these sessions will help you determine the best way to move forward after completing your HDO education. Schedule an appointment with a career coach to develop your career search strategy, create your application materials, research careers and connect with and apply for opportunities and prepare for interviews. To schedule an appointment, call 512-471-7900. HDO's career coach will also hold group sessions with your entire cohort throughout the program.
Texas Recruitment + Interview Services
Graduate Students can use HireUTexas to search for professional job opportunities. New positions are posted daily. You may also participate in most of the Career Fairs on campus. See a list of upcoming fairs here.
Career Research
Explore the extensive career research resources below to help you consider your options, and learn how to best approach your goals.
The Versatile PhD: Online service for graduate students that demystifies non-academic careers and reveals many professions that can utilize the skills you are developing in graduate school. Sign up for the Versatile PhD.
Vault: Career information web site, providing employee surveys of top employers, career advice, job listings, and career guides to individual industries. Access the pre-paid Vault subscription via your BTT Gateway account using the Additional Resources tab.