Faculty, advisors, friends, and family gather to celebrate the achievements of HDO's eighth Master's cohort

On Friday, December 13, thirteen students crossed the stage at UT Austin's Main Building to receive their Master's degrees in Human Dimensions of Organizations (HDO), joining the Longhorn alumni community.

HDO's faculty, staff, and advisors, in addition to the graduates' friends and family, are very proud of the hard work and dedication these students put in over the course of 15 months!
Our HDO graduates explored a wide range of diverse disciplines including sociology, philosophy, literature, psychology and rhetoric and studied how to apply them to topics like leadership, ethics, diversity, decision-making and change management.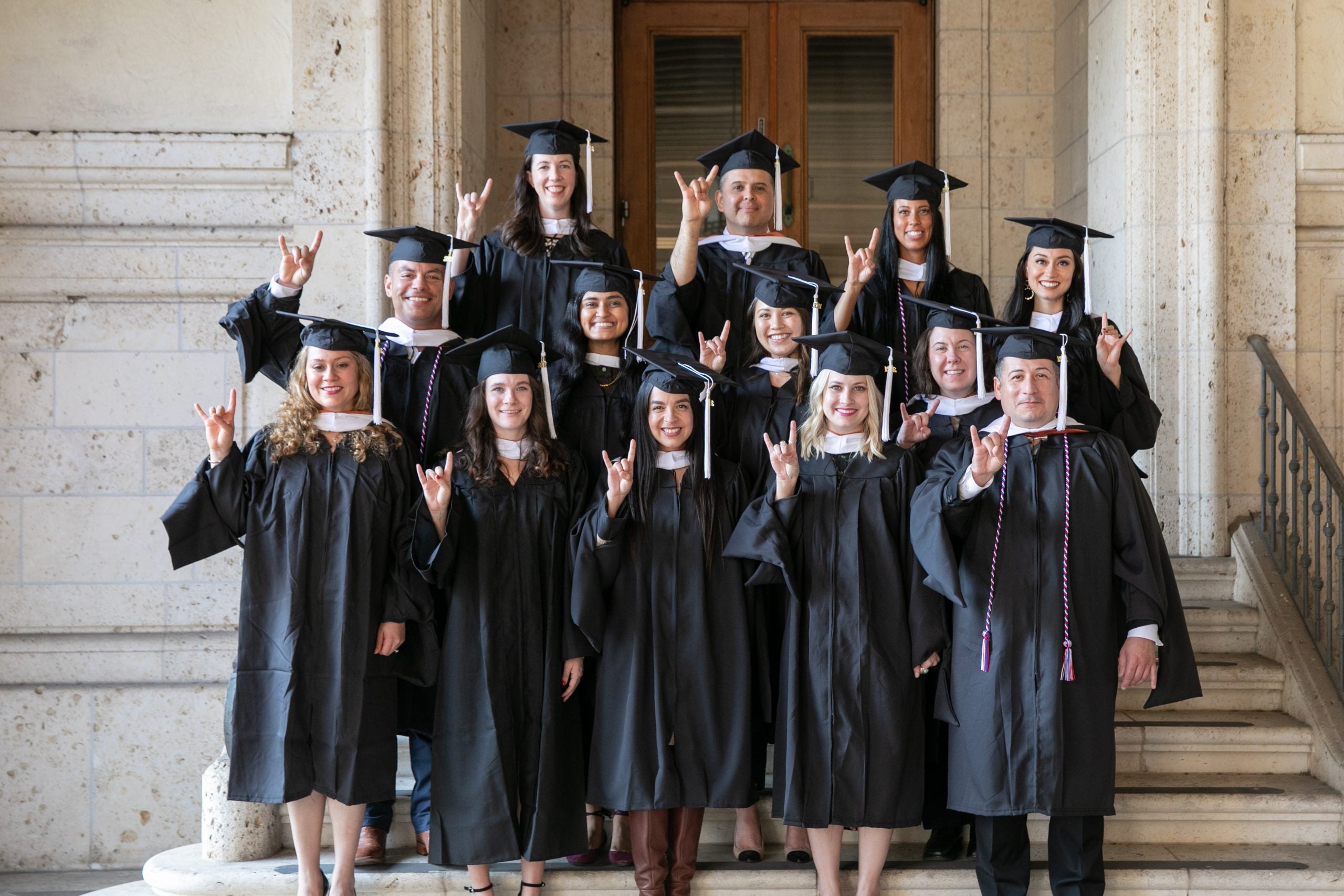 HDO Master's Class of 2021
For the eighth year in a row, Graduation Day began with the students presenting their Capstone Projects at the Practical Applications of Humanities for the Modern Workplace event at UT Austin's AT&T Center.
More popular every year, this event allows the HDO Master's cohort to present their research to the general public, including business and nonprofit leaders, advisors, faculty members, family and friends. These Capstone Projects, every year challenge and examine the practical application of the humanities, social and behavioral sciences to business and nonprofit organizational issues and environments.
This year's Capstone Projects covered a wide range of issues, including the examples below:
How enterprise social media impacts employee perceptions of collaboration and voice
How traditional and digital journalists interpret collaboration in local newsrooms
Why employee autonomy and trust are vital to organizational success
How perceptions of success impact career movement
How storytelling impacts the development of credibility in job interviews
Graduation Ceremony
We held a ceremony for the graduates following their Capstone presentations. HDO Associate Professor Dr. Mary R. Rose, PhD began the ceremony by reflecting on the incredible achievements of the graduates and their dedication to the program. Dr. Rose gave a brief overview of the origins of the HDO program, thanking founder Dr. Art Markman, Ph.D. and Director, Dr. Amy Ware, Ph.D.
HDO cohort member Jaime Aguero kicked off the annual presentation of the Outstanding Professor of the Year Award. This year, the award was presented to HDO faculty member Dr. Clay Spinuzzi, Ph.D. Aguero described the transformative and thought-provoking time the cohort spent learning from Dr. Spinuzzi over the course of 15 months and how he empowered his students to question processes and challenge status quo.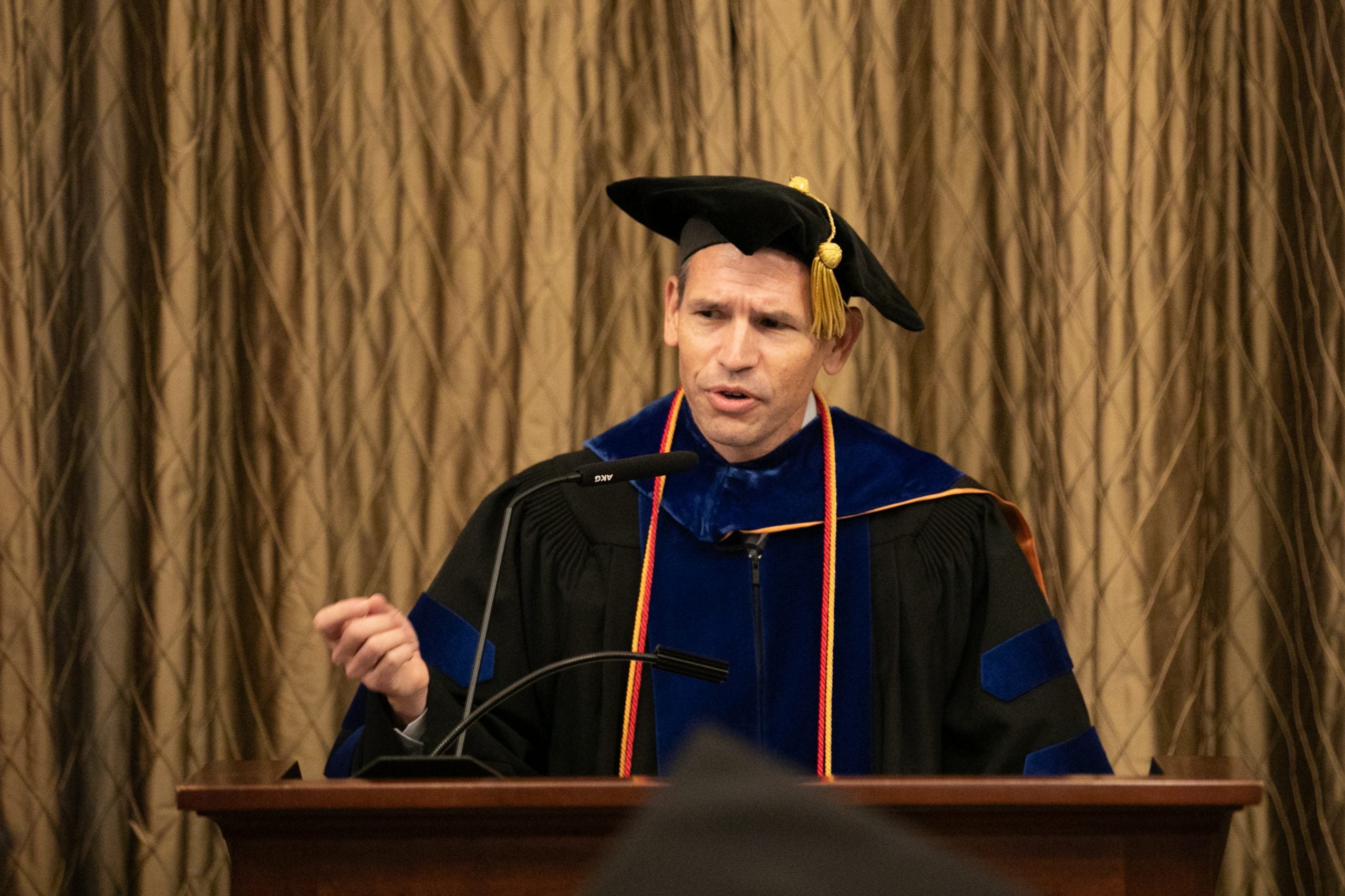 Dr. Clay Spinuzzi, PhD, 2021 recipient of the Outstanding Professor of the Year award. 
Dr. Art Markman delivered the commencement address, congratulating the cohort on their devotion to their studies and the attention to detail evident in their Capstone Projects. Dr. Markman, having published more than 150 scholarly works on cognitive science, organizational behavior and decision-making, Dr. Markman noted that the graduating HDO cohort is now equipped to lead organizations and teams through extreme uncertainty, communicate effectively and manage constant change. Referencing the ongoing global pandemic and the struggle to increase vaccination rates, Dr. Markman encouraged the graduates to share their new skills and knowledge widely, as solving this current crisis (and future ones) will require a deep understanding of human behavior and motivation.
After each graduate was recognized, HDO alum Cyndee Blockinger Lake, M.A., concluded the ceremony with some thoughtful remarks, encouraging the graduates to employ their new skills and perspectives to construct daily "to be" lists in addition to our ever-ubiquitous "to do" lists. Lake, Class of 2015, chairs the HDO Advisory Board and serves as Chief Purpose Office & Co-Founder of Blank Page, LLC.
Congratulations to the HDO Class of 2021! The faculty and staff are very proud of your accomplishment and look forward to seeing you bring new perspectives to your organizations and lead thoughtful innovation throughout your career.