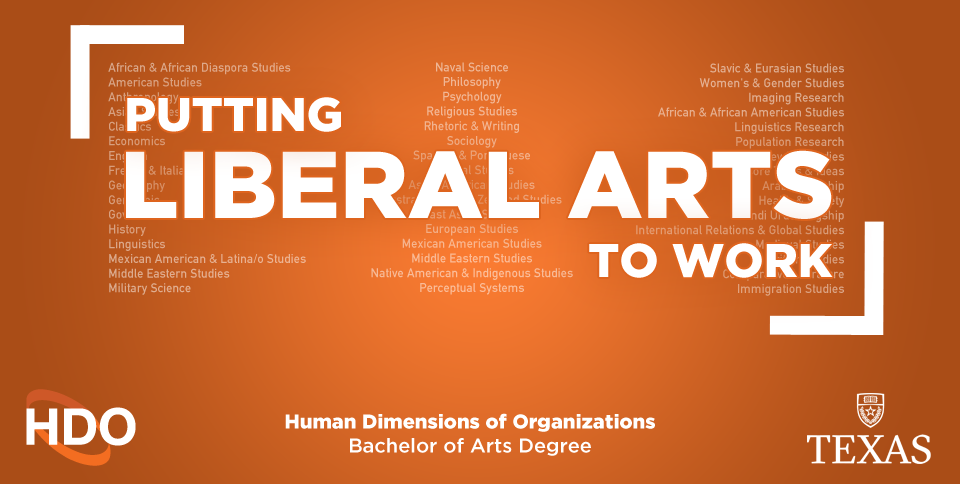 ---

Requirements & Courses


The Bachelor of Arts degree in Human Dimensions of Organizations is interdisciplinary, which means that HDO majors take a combination of core HDO classes courses and a variety of approved courses offered in other departments. Students can discuss and review this list of approved courses with HDO's academic advisor.
Organization of the Major
Thirty semester hours of human dimensions of organizations, at least eighteen of which must be upper-division, including
Human Dimensions of Organizations 301
Human Dimensions of Organizations 320
At least three hours in each of the following four fields

Quantitative reasoning
Qualitative reasoning
Creativity and innovation
Culture and communication

Nine additional semester hours from item 3
Human Dimensions of Organizations 379
Click here to view/download a current list of courses approved to fulfill Section 3 above.
HDO Course Descriptions
HDO 301: Introduction to the Human Dimensions of Organizations
In this course, students are introduced to what organizations are and how the liberal arts can examine, analyze, and change them. The course will define an organization from a liberal arts standpoint; survey various approaches to understanding organizations, and explore career opportunities related to the human dimensions of organizations.
HDO 320: Multidisciplinary Methods for Exploring Organizations
In this course, students will learn how to analyze and synthesize organizational studies from a liberal arts viewpoint. They will examine types of organizations, explore problems these organizations face, and consider the ways distinct methodologies might address these problems.
HDO 379: Applying the Human Dimensions of Organizations
In this course, students will engage in a connecting experience that allows them to apply the multidisciplinary methods of the Human Dimensions of Organizations with an external entity.  These individual projects enable students to broaden their understanding of the role of the liberal arts viewpoint in practical settings.
HDO 359H and 379H: Honors Research in Human Dimensions of Organizations
Students in the honors track will complete an extended connecting experience that they develop in consultation with a member of the faculty. In this connecting experience, they will describe an organizational problem that they witnessed and do an extended thesis that uses one or more disciplines to provide insight into how this problem can be addressed. The program will culminate in a poster session in which honors students present their work to faculty and students.