Maximizing Mental Agility
Maximizing Mental Agility
Productivity • Creativity • Critical Thinking
Upcoming Course: TBD
Location: UT Austin
Cost: $1,000
Course Description
Maximizing Mental Agility is a one-day course developed by Psychology Professor and HDO's Founding Director Dr. Art Markman. The course focuses on six areas of thinking that provide easy-to-learn strategies rooted in cognitive science that will help people to be more productive, efficient, creative, motivated, and satisfied in their working lives, and beyond.
The course highlights six facets of human thought that are simultaneously hidden and obvious. Most of us are unaware that these factors control the way that we think, and yet, when we are told about them, we recognize situations where they have affected our thinking. By making these characteristics explicit, we give people more insight into the strengths and weaknesses of their own thinking. We then provide specific techniques based on these insights that they can use to be more effective in the workplace and beyond.
These techniques are presented in a fast-paced, interactive format, that combines presented material with situational team-based learning modules designed to transition the concepts into the students' everyday thinking. 
Course Leader(s)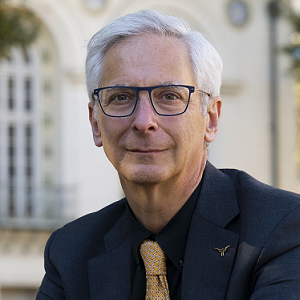 Art Markman is the Vice Provost for Academic Affairs and the Annabel Irion Centennial Professor of Psychology and Marketing at The University of Texas at Austin. He was also the founding director of the HDO program. He received his Ph.D. in 1992 from the University of Illinois and worked at Northwestern University and Columbia University before coming to The University of Texas at Austin in 1998.
Dr. Markman haspublished more than 150 scholarly works about cognitive science, decision-making and organizational behavior. He is also the founding director of the HDO program. Dr. Markman and several of his books, including Smart Thinking, Smart Change, Bring Your Brain to Work, and Brain Briefs (co-written with Dr. Bob Duke), have been featured on Dr. Phil and other programs.
Beyond the UT campus, he is probably best known as the co-host of KUT's "Two Guys on Your Head" radio show and podcast, where he and Butler School of Music professor Bob Duke explore the human mind with a unique mix of research, humor and everyday relevance.
Learning Objectives
The six strategies participants will learn in this course are:
The Role of 3:

 Our thought and memory capacity is organized around 3 items at a time. How we can use this to our advantage
Autopilot and Creativity:

 How the mind tries NOT to think as much as possible, and how we can turn this knowledge to our advantage.
Making Connections:

 Our best thinking comes from understanding causes, but we often fail to do this. How can we turn this knowledge into more powerful thinking?
Using Analogy and Similarity:

 The mind is constantly re-using old ideas in new situations. How can we train ourselves to use this natural skill to be more creative?
Active Memory:

 Improving the quality of what we remember by actively managing the quality of what we learn.
Defining Your Goals:

 Most people fail to reach their goals because they fail to take a "productive pause" to think about how they will achieve them.
Details & Registration
Location: UT Austin
Upcoming Program(s): TBD
Time: 9:00 a.m. – 4:00 p.m.
Continuing Education Units (CEUs): 0.6 CEUs will be awarded upon completion of this program (six hours of instruction)
Registration Deadline: TBD
One-Day Seminar Pricing:
Registration fee includes all course materials, catering (lunch and refreshments), WiFi access, and parking.
Standard Registration: $1,000
UT System Staff/Alumni Registration: $750
Educator, Nonprofit, Government, Military Registration: $750
If you have questions prior to registering, please see our Professional Training FAQ or contact Andrew M. Vasquez, HDO's Enrollment & Success Coordinator at hdo-pro@austin.utexas.edu. 
Who Should Participate?
The majority of participants in our Seminars and Certificate Programs are mid- and upper-level professionals working in the business, nonprofit, government, or military sectors; however, professionals at all levels of experience are welcome to participate. There are no prerequisites for enrolling in an HDO Professional Seminar.
While all HDO Seminars are developed with wide-ranging applicability in mind, the following individuals and groups will likely find Maximizing Mental Agility most directly relevant to their work:
Senior/Executive Leadership
Middle Management
Team Leaders & Supervisors
Human Resources/Recruiting Directors & Managers
Creative Professionals
Project Managers
Dr. Markman utilizes common analogies to easily explain complex thinking. The strategies that he covered are extremely applicable to the business world, in particular: analysis of how we learn, use habits, and our active memory.
Andrew Chong, Technical Director, Canadian General Tower
One-Day Professional Seminars
Our seminars combine cutting-edge research with real-world application to provide practical and immediately relevant tools for solving key organizational problems, ranging from personal motivation and growth to strategic leadership.
Businesses and nonprofits often bring outside specialists on board to improve their organization's overall efficiency, creativity, and productivity. Participants in our seminars learn to function as "internal consultants," equipped with new skills and insights to enhance their existing expertise and institutional knowledge.
By exploring specific human, cultural, and communicatory aspects of organizations alongside professionals from a diverse range of industries, participants leave HDO seminars more effective, well-rounded employees.