The Future of Work
Management • Productivity • Engagement
Upcoming Course: Spring 2024
Location: UT Austin
Cost: $1,000
Course Description
The notion of work—how we work, where we work, and our relationship to work—is rapidly evolving. 
Research suggests a big disconnect exists between how employers and employees think about in-person vs. remote work and what it means for productivity. What does the permanence of hybrid work mean for your organization? How do you build a workplace culture that is both flexible and productive for both the organization and its employees? How are technological advances in workplace communication channels and generative AI changing the nature of work and the skills required to succeed? Moreover, what's behind the "quiet quitting" phenomenon, and what does it suggest about how attitudes toward work are evolving? 
As a result of the pandemic, many people have started to think more personally and philosophically about the meaning of work. Long regarded as a key extension or expression of one's identity, work has a new meaning. As a result, more and more people are looking for purpose through work and an affirmation of the values that are important to them. 
These issues connect to another significant feature in discussions about the future of work: well-being. When it comes to well-being, what are today's workers looking for, and how should your organization respond to these rapidly evolving expectations? These developments intersect with significant generational shifts as younger millennials and Gen-Z'ers develop very different expectations about work. These generational shifts reflect broader social and cultural changes and will require organizations to be more deliberate and strategic regarding recruiting and retaining future talent. 
This course is designed to engage current research related to the future of work while also creating a space for you to share how your organization is (or is not) preparing for a future of work that, in reality, is already here.
Course Leader(s)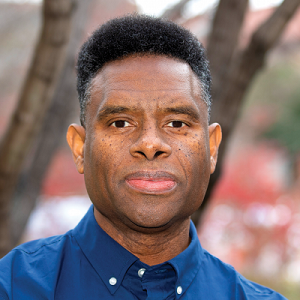 S. Craig Watkins is the Ernest S. Sharpe Centennial Professor at The University of Texas at Austin. An internationally recognized expert in media, Watkins is the author of five books exploring young people's engagement with media and technology. His two most recent books—The Digital Edge and Don't Knock the Hustle—result from his work with the Connected Learning Research Network, a research collaborative funded by the MacArthur Foundation.
Watkins is the founding director of the Institute for Media Innovation, a new boutique hub for research and design located in the Moody College of Communication. IMI brings together a unique collection of social scientists, media creatives, journalists, and designers to translate research-driven knowledge into critical and creative engagement with a media, tech, and AI-driven world that grows more influential every day.
His work has been profiled in places as varied as The Washington Post, The Atlantic, Newsweek, TIME, ESPN, NPR, and featured at venues like SXSW, The Aspen Institute, and The New York Times Dialogue on Race.
Learning Objectives
This one-day seminar draws on from research in fields as varied as sociology, psychology, business, and technology studies to explore some of the crucial issues that all organizations must contend with, including:
Separating fact from fiction: What does remote work mean for worker productivity?
What is lost and gained in the rapid rise of remote work?
What is really driving the "quiet quitting" phenomenon?
What do younger workers value most in their career-related aspirations?
Understanding why your organization should care about well-being
This seminar is designed to help participants develop a more nuanced perspective about the future of work and workplace culture and how to maximize their organization's performance in a rapidly changing world.
Details & Registration
Location: UT Austin
Upcoming Course(s): Spring 2024
Time: 9:00 a.m. – 4:00 p.m.
Continuing Education Units (CEUs): 0.6 CEUs will be awarded upon completion of this program (six hours of instruction)
Registration Deadline: Registration Closed
One-Day Seminar Pricing:
Standard Registration: $1,000
UT System Staff/Alumni Registration: $750
Educator, Nonprofit, Government, Military Registration: $750
If you have questions prior to registering, please see our Professional Training FAQ or contact Andrew M. Vasquez, HDO's Enrollment & Success Coordinator at hdo-pro@austin.utexas.edu.
Who Should Participate?
The majority of participants in our Seminars and Certificate Programs are mid- and upper-level professionals working in the business, nonprofit, government, or military sectors; however, professionals at all levels of experience are welcome to participate. There are no prerequisites for enrolling in an HDO Professional Seminar.
While all HDO Seminars are developed with wide-ranging applicability in mind, the following individuals and groups will likely find The Future of Work most directly relevant to their work:
Senior/Executive Leadership
Managers and Directors
Human Resources & Recruiting Professionals
Start-up Enterprises
Established Enterprises
Individuals and organizations looking for workers who are creative, nimble, and open to learning new things
HDO Seminars prepare me in ways that I didn't even know were possible. The lessons constantly open my mind to new ways of thinking and interacting with people and my surroundings.
Rachel White, Public Affairs Representative, College of Liberal Arts, the University of Texas at Austin
One-Day Professional Seminars
Our seminars combine cutting-edge research with real-world application to provide practical and immediately relevant tools for solving key organizational problems, ranging from personal motivation and growth to strategic leadership.
Businesses and nonprofits often bring outside specialists on board to improve their organization's overall efficiency, creativity, and productivity. Participants in our seminars learn to function as "internal consultants," equipped with new skills and insights to enhance their existing expertise and institutional knowledge.
By exploring specific human, cultural, and communicatory aspects of organizations alongside professionals from a diverse range of industries, participants leave HDO seminars more effective, well-rounded employees.