Understanding & Managing Motivations: Uncovering Potentials
Understanding & Managing Motivations: 
Uncovering Potentials
Leadership • Ethics • Management Strategy
Upcoming Course: October 17, 2023
Location: UT Austin
Cost: $1,000
Course Description
How can the subject of moral and ethical behavior be taught and understood?
How can leaders better understand the competing motivations their colleagues are balancing?
Art provides concrete but fictional scenarios that help us to understand how ethical decisions are made and to see how ethics and leadership intersect in the real world. Participants in this course will use human expressive works (drama, painting, and film) to ask the questions: "What is the nature of an ethical challenge?" "How can people reason ethically?" and "How is ethical leadership different from any other kind?"
Drawing upon specific examples, participants will examine their own emotional and personal responses as they face difficult decisions. Through a systematic approach to assessing competing motivations in context, participants will also develop workable definitions of ethical leadership. The course will focus on intersectionality, empathy, and vulnerability.
Course Leader(s)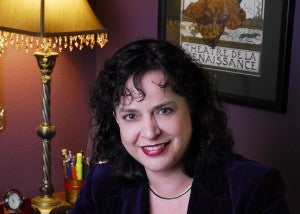 Elizabeth Richmond-Garza is an Associate Professor of English at the University of Texas at Austin, teaching theatre, aesthetics, and fine arts at UT Austin. She also teaches the "Organizational Diversity" course in the HDO Master's Program. She is the Director of the Program in Comparative Literature and was previously chief administrative and financial officer of the American Comparative Literature Association.
Dr. Richmond-Garza holds degrees from U. C. Berkeley, Oxford University, and Columbia University and has held both Mellon and Fulbright Fellowships. She works actively in eight foreign languages and is renowned for her creative, multi-media approach to teaching. Among other honors, she has been awarded the Chad Oliver Plan II Teaching Award, the 16th annual Friar Centennial Teaching Fellowship, and the Minnie Piper Stevens Teaching Award. She was elected to the Academy of Distinguished Teachers in 2004 and was awarded the Regents' Outstanding Teaching Award in 2009. She has also offered a series of lectures at the Menil Art Gallery and is regularly invited as a speaker in Dallas, Austin, and Houston.
Learning Objectives
Gaining a business advantage is one good reason to reflect on artistic works, but understanding the motivations of the people you work with is equally as important. Through careful analysis of the motivations and identities at play in the selected works, participants will develop strategies for asking themselves productive questions. These questions will generate positive outcomes from conflictual situations in which misunderstood and competing ethical and personal agendas might otherwise lead to negative, or even tragic, consequences.
The goal is to develop an attentiveness to those patterns of motivational conflict which might jeopardize the health and productivity of the organization and/or community in question. Hands-on experience with analyzing fictional conflicts allows participants to develop their own strategies for responding to real-life tensions and pressures in a self-aware and constructive manner.
Details & Registration
Location: UT Austin
Upcoming Course(s): October 17, 2023
Time: 9:00 a.m. – 4:00 p.m.
Continuing Education Units (CEUs): 0.6 CEUs will be awarded upon completion of this program (six hours of instruction)
Registration Deadline: October 14, 2023
One-Day Seminar Pricing:
Registration fee includes all course materials, catering (lunch and refreshments), WiFi access, and parking.
Standard Registration: $1,000
UT System Staff/Alumni Registration: $750
Educator, Nonprofit, Government, Military Registration: $750
Get employer support! We've gathered resources to help you make the case for your employer to support your HDO education.
If you have questions prior to registering, please see our Professional Training FAQ or contact Andrew M. Vasquez, HDO's Enrollment & Success Coordinator at hdo-pro@austin.utexas.edu.
Who Should Participate?
The majority of participants in our Seminars and Certificate Programs are mid- and upper-level professionals working in the business, nonprofit, government, or military sectors; however, professionals at all levels of experience are welcome to participate. There are no prerequisites for enrolling in an HDO Professional Seminar.
While all HDO Seminars are developed with wide-ranging applicability in mind, the following individuals and groups will likely find Understanding and Managing Motivations:
Uncovering Potentials most directly relevant to their work:
Senior/Executive Leadership
Middle Management
Team Leaders & Supervisors
Human Resources/Recruiting Directors & Managers
Consultants tasked with identifying organizational and/or leadership challenges
Any individual or team that faces daily decisions about personnel and information management, decisions that rely upon balancing personal convictions, identity politics, and institutional demands
I have attended numerous trainings over many years. This instructor is a very talented teacher. It was brilliant how the instructor taught using the analogy of theater and literature. I enjoyed this training and have a great deal that I can bring to my organization.
Vali Martin, Associate Executive Director, YMCA of Austin
Dr. Richmond-Garza's ability to quickly bring the participants to deep discussions about identity and motivations using literature and movies was one of my favorite elements of the seminar. I will look for videos and stories that illustrate issues and opportunities to explore in my workplace. Attention to detail is superb!
Jim Smalley, System Director, Organizational Development, Texas Children's Hospital
One-Day Professional Seminars
Our seminars combine cutting-edge research with real-world application to provide practical and immediately relevant tools for solving key organizational problems, ranging from personal motivation and growth to strategic leadership.
Businesses and nonprofits often bring outside specialists on board to improve their organization's overall efficiency, creativity, and productivity. Participants in our seminars learn to function as "internal consultants," equipped with new skills and insights to enhance their existing expertise and institutional knowledge.
By exploring specific human, cultural, and communicatory aspects of organizations alongside professionals from a diverse range of industries, participants leave HDO seminars more effective, well-rounded employees.